State budget cuts mean huge losses for health services
Posted:
Updated: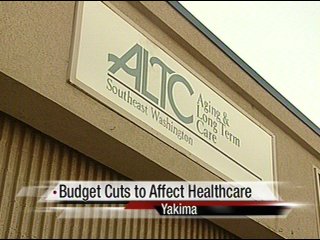 YAKIMA, Wash- Governor Gregoire announced across the board budget cuts last week, but the Department of Social and Health Services will likely be hurt the most.
Agencies like Aging and Long Term Care (ALTC) are expected to bear the brunt of those $520-million dollars in cuts. That means as soon as November first, some of the most vulnerable people in our communities will see drastic changes to the services they depend on.
ALTC care facilities serve eight counties including Yakima, Kittitas, Benton and Franklin. Their main function is to help the disabled and elderly get care in their homes instead of having to live in a state-run facility. With the new cuts, those people will see major reductions in their services.
"We don't know the full implications but we do know it's going to be really devastating to medically fragile disabled adults medically fragile elders", says Lori Brown, the Director of South Eastern Washington's Aging and Long Term Care.
But for ALTC, this much is clear: programs such as meals on wheels, adult day care, counseling, transportation, and foot care services will have major cutbacks. Patients will get about thirteen hours less in services. Brown believes this will greatly affect their quality of life.
"They're going to go into E. R.s, going to start qualifying for Medicaid, going to be institutionalized, that will be the outcome", predicts Brown.
But with Washington's budget shortfalls, cuts are a necessary evil. Central Washington Progress, a community action group is trying to get voters to vote for initiatives they say will bring in money.
"A yes on 1098 is going to raise about 1.7 billion, most will go to tax cuts and education, it will help make up those deficits", says Mary Baechler of Central Washington Progress.
There are of course arguments against 1098 as well. KNDO will be showing both sides of that issue on October the 12th.
Another interesting fact about the DSHS cuts, 52% of people in Yakima, 47% in Franklin, and 34% in Benton Counties use DSHS services.