Diocese of Yakima invites an Islam speaker to Richland
Posted:
Updated: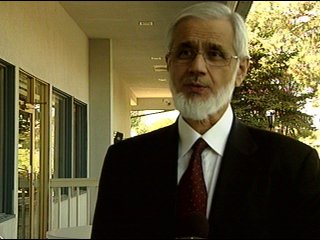 RICHLAND, Wash., -- Bishop Carlos Sevilla, the head of the Diocese of Yakima invited a different kind of guest speaker for the annual convocation held at the Shilo Inn in Richland. Dr. Muzammil Siddiqi, is the Chairman of the Fiqh Council of North America, and a traveling speaker from California who came here to clear up misconceptions about Islam, his faith.
Bishop Seville says the 60 Roman Catholic priests from all over Central Washington were very excited to ask him questions. "Dr. Siddiqi is a very moderate kind of intellectual who can give us an authentic view of Islam and not the extremist point that we hear about so much," says Seville.
Dr. Siddiqi answered a lot of questions about modern day Islam and the negative connotation the faith has thanks to extremists. "nineteen people do a crime and 1.5 billion people are blamed for that. If some Americans do something, should all Americans be blamed for that? Islam faith is not responsible for 9-11, these extremists are not soldiers of Muslim government, they are not part of a military, or a representative of any Muslim party. They are a gang who committed a crime, why do all Muslims have to be blamed for that.?"
Dr. Siddiqi also answered questions about the controversial mosque going up at Ground Zero in New York. Bishop Seville says people are misinformed. "That land has been owned by the Muslims for years. there's been a mosque there for years. there's nothing new there except a new building, that will add an educational center to that particular place of worship and prayer," says Seville.
Dr. Siddiqi also addressed the Florida preacher who wanted to begin a movement to burn the Kuran (qur'an) He says America did the right thing. "I'm very pleased with the response we had from the American people in general. The churches, the government, from many people. They all spoke up against that because it should not be done to any religion. we should respect the scriptures of all faiths," says Siddiqi.