Economy brings people from around the country
Posted:
Updated: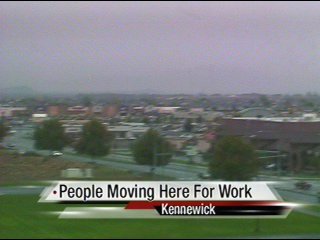 KENNEWICK, Wash. - It's becoming a trend, people moving to the Tri-Cities. A report from the U.S. News and World Report says the Tri-Cities is one of the best places to launch a second career.
This is what brought 52 year old Arthur Taylor here. Taylor moved from Medford, Oregon for a fresh start. He left his seasonal job there with the hopes of finding a year round one.
"Medford is dead, there's a lot of businesses that are shutting down and people are moving out and according to the computer this area is up here, right now it's economically grown so I came up here to try and find a job," said Taylor.
But if you're not qualified for a job at Hanford or in science, engineering or health care it's a little more difficult. The latest unemployment numbers here in the Tri-Cities show we are at about a 6.4%. Although it's lower than the state average, at 8.8%, there are still thousands of people without a job.
"It's difficult though because we have our old residents still and in some cases they are unemployed and now we are having the influx of folks who have learned about us," said Candace Bluechel, from WorkSource.
But she says that doesn't stop people from moving to the area.
"They'll be people who come to us and say whatever study they saw or read or heard about and they move their entire family here. Just pack them up, because it was going to be better than wherever they were currently living," said Bluechel.
As for Taylor, he's looking for an industrial or manufacturing job and at this point he's just waiting for that call.
"Boy wouldn't I be tickled pink. I'd pay off my debt, get things taken care of, especially with a benefits package. That would be sweet, I could even buy teeth, that would be really good," said Taylor.
In the meantime, Taylor will continue to stay at the Union Gospel Mission.