NASA Astronaut speaks at CBC in Pasco
Posted:
Updated: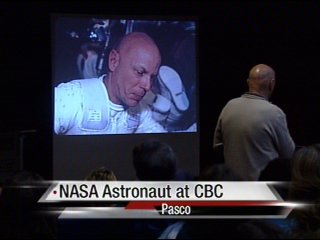 PASCO, Wash., -- Story Musgrave, is a member of the first cohort of astronaut scientists selected by NASA in 1967. Thursday, he visited Pasco and spoke to the students at Columbia Basin College. After completing his astronaut training, Musgrave worked on the design and development of the Skylab program and also helped with the design of spacesuits, life support systems, airlocks, and manned maneuvering units. The first of Musgrave's six trips into outer space took place on the maiden voyage of Space Shuttle Challenger. During that mission, he performed the first space walk off of the shuttle. Perhaps the most dramatic space mission was the fifth on the Shuttle Endeavor. Musgrave commanded the mission to repair the damaged Hubble Space Telescope. Musgrave is a huge believer in the value of education. Throughout his career he earned six college degrees, two bachelor's, three master's and a Doctor of Medicine.
Musgrave gave two student lectures and spoke about his mission to fix the Hubble Telescope, where he was the lead spacewalker. Tamara Beckstrand brought her two kids to hear the lecture. "I thought it would be exciting for them to meet someone who has actually been into space, and show them that space is a frontier that we need to continue to explore. Set goals, engineering and science goals, and reach those goals."
Musgrave also spoke at a fundraiser dinner to support the establishment of a planetarium on the CBC campus.