More tractor thefts in the area
Posted:
Updated: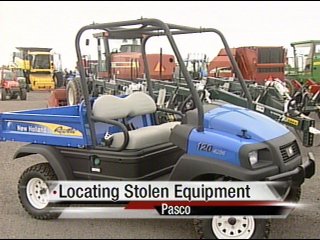 PASCO, Wash. -- A rash of tractor thefts has hit the area. One Pasco dealership has been able to recover two pieces of stolen equipment.
Managers at the New Holland Dealership on Oregon Avenue in Pasco say they are relieved, now that deputies found a $30,000 tractor after it was stolen months ago. The tractor wasn't the only thing stolen. A flatbed trailer was also taken, but was also recently returned.
Yakima County Sheriff's Deputies say the thief came to Pasco, then took off with the equipment where it was found months later behind a home off of Larue Road near Toppenish. The tractor was being used at night to clean off a field behind the home. Neighbors thought that was strange, so they called Deputies who found out the tractor was stolen.
New Holland Managers say they are grateful to have the two pieces back, but they are still looking for more.
Ron Belt, the Director of Services at New Holland says, "the last couple of months it's been at it's highest. Typically we lose one piece of equipment in 3 years. We've lost 4 pieces within a matter of three months."
Tractor thefts have been on the rise recently because price tags can reach tens of thousands of dollars. Deputies say in this case, the suspect has been identified and charges are likely.