Central football returns to winning track with 27-0
Posted:
Updated: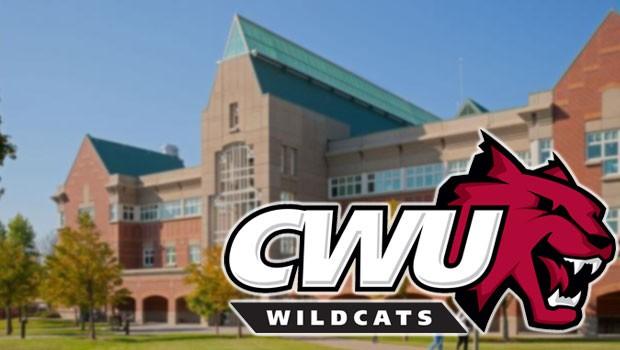 ELLENSBURG, Wash. (Oct. 9) -- True freshman Levi Taylor (Spokane, Wash./Lewis and Clark HS) had a game-high 106 all-purpose yards in his collegiate debut, and sophomore quarterback Ryan Robertson (Sammamish, Wash./Eastlake HS) threw for a career-high 322 yards as the Central Washington University football team returned to the win column with a 27-0 shutout victory over Southern Oregon University on Saturday afternoon at Tomlinson Stadium.

The win enabled the Wildcats to go back above the .500 mark at 4-3 overall. Southern Oregon, which competes as an independent member of the National Association of Intercollegiate Athletics (NAIA), suffered its fourth straight loss to fall to 2-4.

Taylor, who had been Central's third-string running back for, but had not played in any of the first six games of the season, finished his first career game with 62 receiving yards on six receptions and 44 rushing yards on 10 carries and saw most of the action in the backfield over the final three quarters for the Wildcats.

Robertson, meanwhile, had a career day passing by completing 29 of 38 passes for 322 yards and three touchdowns without an interception. The sophomore's previous career passing high had been 256 yards, and his 76.3 percent efficiency was the highest of his young career.

While the offense racked up 432 yards for its second-best yardage total of the season, the Wildcat defense posted the team's first shutout since the 2009 season opener and held Southern Oregon to just 112 yards of offense. The Raiders netted just two rushing yards against Central's stout defense, and quarterback Paul Sweeney completed just 12 of 30 passes. CWU finished the game with 10 tackles for losses totaling 44 yards, helping diffuse Southern's offensive attack.

The Wildcats scored on each of their first two possessions, using a fake field goal attempt to prolong their first drive before eventually settling for a 41-yard field goal from sophomore Sean Davis (Federal Way, Wash./Todd Beamer HS) that capped a 14-play, 49-yard series. On the second possession, Robertson connected with junior tight end Demetrius Guice (Portland, Ore./Central Catholic HS) on an eight-yard pass that pushed the margin to 10-0 just before the end of the first quarter.

Central, which forced a Southern Oregon punt on the Raiders' first eight possessions of the game and 10 of 11 overall, scored its second touchdown of the afternoon late in the second quarter. On a drive dominated by five touches (two carries, three catches) from Taylor, Robertson connected with the running back on a 16-yard pass play and Davis' extra point made it a 17-0 halftime score.

The Wildcats had the opportunity to score once more before halftime, but a fumble on the SOU goal line with 1:25 left prevented the hosts from putting the game out of reach.

Neither team scored in a third quarter that was marred by CWU penalties totaling 50 yards and by a fumble as the Wildcats drove into Raider territory on their opening series. In fact, it appeared that neither team would score in the final stanza, either, until Southern Oregon had its best scoring chance on a 13-play, 72-yard drive. However, after more than six minutes of possession, the Raiders saw a 35-yard field goal attempt by Tyler Crowley sail wide left to preserve the CWU shutout. The Wildcats then countered with Robertson's third scoring pass of the day -- a 14-yard toss to senior Jamal Weems (Seattle, Wash./Cleveland HS) -- that gave them an insurmountable 24-point lead. Davis later added a 27-yard field goal -- his ninth in 10 tries this season -- to account for the final 27-0 score.

Central tripled Southern Oregon in the passing department with 330 yards to the Raiders' 110, and they finished with nearly a 4-to-1 edge in total offense. The Wildcats totaled 24 first downs to Southern's nine, had a 102-2 edge in rushing offense, and overcame a 17-penalty day that cost CWU 136 yards. They did, however, have the football for more than 36 minutes of the contest and held SOU to just 3 of 15 on third-down.

Taylor finished as the game's second-leading rusher behind redshirt freshman Ishmael Stinson (Tacoma, Wash./Charles Wright Academy), who logged 45 yards on 14 carries. Robertson added 15 rushing yards for a career-best 337 yards in total offense.

Guice was the game's top receiver with career-highs of seven receptions and 82 receiving yards, and the Wildcats had eight different pass-catchers in the contest.

Southern Oregon saw Sweeney complete just 12 of 30 passes for 110 yards, while Vance Beach was the Raiders' top receiver with four catches but just 22 yards. Marshawn Friloux was the lone SOU player with a positive net total in rushing with 28 yards on 12 carries.

Defensively, Central was led by senior Jared Silva-Purcell (Honolulu, Hawaii/St. Louis HS) with nine tackles including two for losses. Fellow linebackers Adam Bighill (Montesano, Wash.) and Paul Wright (Martinez, Calif./De La Salle HS) also had two tackles for losses each, while all three of senior Eugene Germany's (Pomona, Calif.) tackles were for losses totaling 13 yards. Germany and junior Andrew Oney (Spanaway, Wash./Spanaway Lake HS) each had a quarterback sack for the Wildcats.

Southern Oregon's defense was led by Jake Kyle, Sam Latham, and JT Gilmore with 11, 10, and nine tackles, respectively.

Central Washington will now return to Great Northwest Athletic Conference play, starting with Battle in Seattle VIII versus Western Oregon at Qwest Field next Saturday (Oct. 16). The Wildcats (3-1 GNAC record) will then play their final three games of the 2010 season at home inside Tomlinson Stadium.
COLLEGE FOOTBALL WEST REGION Central Washington 27, Southern Oregon 0 Score by Quarters 1 2 3 4 Score
----------------- -- -- -- -- -----
Southern Oregon..... 0 0 0 0 - 0 Record: (2-4)
Central Washington.. 10 7 0 10 - 27 Record: (4-3) Scoring Summary:
1st 06:55 CWU - Davis,Sean 41 yd field goal, 14-49 6:06, SOU 0 - CWU 3
00:14 CWU - Guice,Demetrius 8 yd pass from Robertson,Ryan (Davis,Sean kick), 9-44 4:58, SOU 0 - CWU 10
2nd 04:45 CWU - Taylor,Levi 16 yd pass from Robertson,Ryan (Davis,Sean kick), 8-72 3:30, SOU 0 - CWU 17
4th 03:58 CWU - Weems,Jamal 14 yd pass from Robertson,Ryan (Davis,Sean kick), 9-80 4:38, SOU 0 - CWU 24
01:11 CWU - Davis,Sean 27 yd field goal, 4-35 2:12, SOU 0 - CWU 27 SOU CWU
FIRST DOWNS................... 9 24
RUSHES-YARDS (NET)............ 21-2 31-102
PASSING YDS (NET)............. 110 330
Passes Att-Comp-Int........... 30-12-0 39-30-0
TOTAL OFFENSE PLAYS-YARDS..... 51-112 70-432
Fumble Returns-Yards.......... 0-0 0-0
Punt Returns-Yards............ 1-0 4-24
Kickoff Returns-Yards......... 6-74 0-0
Interception Returns-Yards.... 0-0 0-0
Punts (Number-Avg)............ 10-42.8 3-44.7
Fumbles-Lost.................. 0-0 2-2
Penalties-Yards............... 10-86 17-136
Possession Time............... 23:39 36:21
Third-Down Conversions........ 3 of 15 6 of 14
Fourth-Down Conversions....... 0 of 0 2 of 3
Red-Zone Scores-Chances....... 0-1 4-5
Sacks By: Number-Yards........ 1-1 2-24
RUSHING: Southern Oregon-Friloux,Marshawn 12-28; Springer,Michael 7-minus 2; Sweeney,Paul 2-minus 24. Central Washington-Stinson,Ishmael 14-45; Taylor,Levi 10-44; Robertson,Ryan 5-15; TEAM 2-minus 2. PASSING: Southern Oregon-Sweeney,Paul 12-30-0-110. Central Washington-Robertson,Ryan 29-38-0-322; Madon,Loa 1-1-0-8. RECEIVING: Southern Oregon-Beach,Vance 4-22; Keenan,Danny 2-43; Avriett,Justin 2-31; Kirkpatrick,Shane 2-7; Brown,Matt 1-10; Springer,Michael 1-minus 3. Central Washington-Guice,Demetrius 7-82; Taylor,Levi 6-62; Smith,Chris 5-59; Weems,Jamal 4-50; Helwege,Justin 3-22; Ward,NaDerris 2-37; Gaisie,Dominique 2-9; Akeo-Orr,Robert 1-9. INTERCEPTIONS: Southern Oregon-None. Central Washington-None. FUMBLES: Southern Oregon-None. Central Washington-Stinson,Ishmael 1-1; Robertson,Ryan 1-1. SACKS (UA-A): Southern Oregon-Kuyper,Sean 1-0. Central Washington-Oney,Andrew 1-0; Germany,Eugene 1-0. TACKLES (UA-A): Southern Oregon-Kyle,Jake 6-5; Latham,Sam 7-3; Gilmore,JT 5-4; Mendez,Dayne 5-1; Wheeler,James 2-4; Nobles,Drew 4-0; Fesser,Randy 3-1; Cantrell,Austin 2-2; Kuyper,Sean 3-0; Smith,Josh 1-2; Brown,Juwuan 1-1; Moroni,Jarrod 1-0; Hines,RaSjeon 1-0; Woods,EJ 1-0; Skipton,Stetson 1-0; Orozco,RJ 0-1. Central Washington-Silva-Purcell,Jared 6-3; Bighill,Adam 4-1; Wright,Paul 3-1; Madon,Loa 0-4; Germany,Eugene 3-0; Oney,Andrew 2-1; Gaisie,Dominique 2-0; Langlow,Stan 1-1; Hunter,Eric 1-1; George,Trent 1-1; Murbach,Jon 1-0; Aludogbu,Emeka 1-0; Watson,Tre 1-0; Reno,Mike 1-0; Turpin,Toby 0-1.