LGBTQ youth have a support system in Yakima
Posted:
Updated: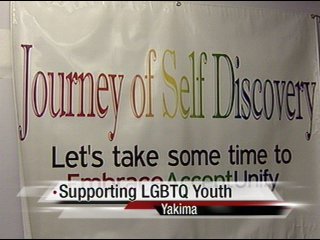 YAKIMA, Wash- In the last few months anti-gay activity has made national headlines. Just last week there was a gay bashing spree in New York that police say more than seven people had a hand in.
Saturday a group in Yakima took a step towards making sure Yakima's youth are protected from that kind of hate.
"That is a great concern, a great tragedy, we need to be part of the solution not part of the problem," said Patricia Flores.
As the guardian of a gay 17-year-old Flores was looking for ways to create a safer community for her grandson.
"Our community and our support is our family, so I look forward to making more connections and more network", Flores explains.
And that's what brought her to the First Annual Journey of Self Discovery Saturday afternoon. The event was put on by Yakima Valley System of Care to show support for LGBTQ, that's lesbian, gay, bi-sexual, transgender, and questioning, youth.
The first annual conference included presentations on coming out, healthy relationships, and being gay and successful in community. But Patricia worries about what members of the mostly conservative Central Washington community may do to her grandson.
"I'm really proud of him for being able to be authentic and be himself and at the same time I'm like be careful, watch your back", admits Flores.
That's a disturbing reality for many LGBTQ youth. Over the last three weeks, at least four young men across the country have committed suicide due to bullying about their sexual orientation.
"Yakima isn't as safe as I'd like it to be and a lot of people are narrow minded but that can be changed", Flores says confidently.