Rental Survey shows rent increases in the Tri-Cities
Posted:
Updated: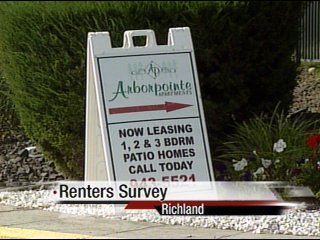 RICHLAND, Wash., -- Crown Property Management released a survey composed of more than 9,000 apartment units in the Tri-Cities and it shows that apartments in Richland, Kennewick and Pasco are at a 99% occupancy rate.
"They're getting 10 people through the door per day, or more 10 to 20 a day. Calls and people coming in. It's so very busy in our offices, the phones are ringing non stop at the buildings," says Linda Henjum, the VP of Pinnacle American Property Management in Richland.
The survey also shows that rents have increased over the last ten years and Richland is the most expensive of the Tri-Cities. One bedrooms cost an average of $780 in Richland and three bedrooms are almost at a thousand dollars per month. In Kennewick, one bedrooms average a whopping $145 dollars cheaper than Richland, at $635 per month. Three bedrooms are about $792 in Kennewick, about 200 dollars cheaper than Richland. The situation is the cheapest in Pasco, one bedrooms go for $660 on average, $120 dollars cheaper than Richland and about $35 dollars cheaper than Kennewick. Three bedrooms are $850, 1$50 cheaper than Richland, and about 1$00 dollars cheaper than Kennewick.
Henjum says they've increased rents at two of her Richland apartments by at least $100 dollars. "We've been raising on average about 50 dollars a month on our market rate increases. Our renewals are going up as much as 100 dollars upon renewal. That's when residents come in and renew their leases that are expiring. And we're raising those as much as 100 per month just to keep up with market competition.'
Carl Adrian, the president of TRIDEC says this is a double edge sword for the Tri-Cities. "Developers and investors like to see apartment rents going up. It means it's a growing market, it means the market is tight. And so from a business person's perspective, its probably positive. On the flip side from a consumer perspective, it's probably not as positive because obviously it's going to cost more money to rent an apartment.'
He says he expects things to even out once new apartments go up and Hanford stimulus money runs out. "we may see a leveling off of rents or a reduction in the rate of increase, or perhaps move-in specials or other kinds of incentives for people to lease apartments," says Adrian.
To see the survey, click here.