National Pregnancy and Infant Loss Awareness Day
Posted:
Updated: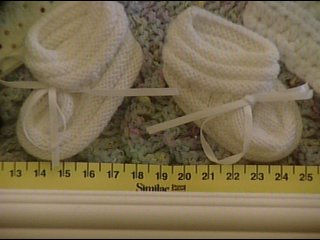 RICHLAND, Wash.—Every year in the United States more than 700,000 women experience pregnancy loss. Friday those women spoke out for National Pregnancy and Infant Loss Awareness Day.
KNDU spoke with one woman who lost her baby when she was only 15 minutes old. She says most people won't talk about the issue, and now she is trying to end the silence for the thousands of women who are suffering alone.
Jillyn Allerd lost her infant a year ago last March after 15 minutes of life. Before she was even born, doctors found cysts in both of her kidneys. They told Allerd that her baby would only live minutes after birth.
Allerd's loss is just one of 20,000 babies that die every year in their first month of life. Allerd says no one talks about the babies who have been silenced.
"You can talk about a mother that died, you can talk about a dad, brother, or sister, but to talk about you lost your baby. No one talks about that," says Jillyn Allerd, lost infant after 15 minutes of life.
Allfred says at times she has felt alone. But through compassion from her family and support groups, she says, it has helped the healing process. One resource for her is "Faces of Loss, Faces of Hope." It's a website where mothers can post their stories and support each other.
Today Allerd has another baby to look after, but she says she'll make sure Grace is never forgotten.
If you or someone you know needs support here are a few resources:
Our Little Lambs Parent Support Group
Kadlec Medical Center (509) 942-2600
Faces of Loss, Faces of Hope
http://www.facesofloss.com/