Central Holds Wolves to 98 Yards of Offense at Battle in Seattle
Posted:
Updated: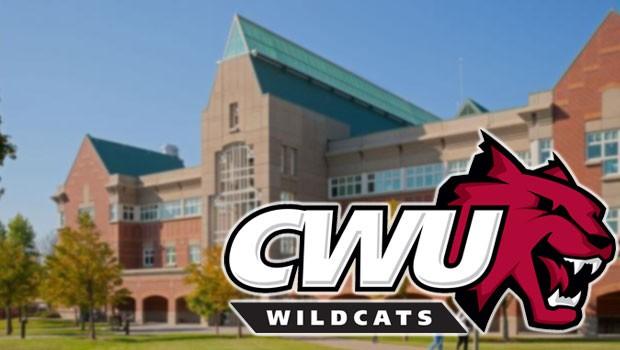 SEATTLE, Wash. (Oct. 16) -- The Central Washington University defense held Western Oregon University to 98 yards of total offense en route to its second consecutive shutout as the Wildcats defeated the Wolves, 19-0, at Battle in Seattle VIII on Saturday night at Qwest Field.

The Wildcats improved to 5-3 overall and maintained their second-place position in the Great Northwest Athletic Conference standings at 4-1 in the conference. CWU has also won seven of nine all-time games at Qwest Field, including a 7-1 record in the eight Battle in Seattle contests. Western Oregon is now 4-3 overall and 3-2 in the GNAC.

Central, which was coming off a 27-0 shutout win over Southern Oregon last week, earned back-to-back shutouts for the first time since Nov. 8 & 15, 1986. They held Western Oregon to 98 yards of total offense, including minus-1 on the ground, en route their 13th consecutive series win over the Wolves.

The Wildcats were opportunistic in the first quarter, earning takeaways on their first two defensive series, and scored first on a 24-yard field goal by sophomore Sean Davis (Federal Way, Wash./Todd Beamer HS) and later on a 13-yard pass from sophomore Ryan Robertson (Sammamish, Wash./Eastlake HS) to junior Demetrius Guice (Portland, Ore./Central Catholic HS).

The opening field goal was set up by a 49-yard interception return by senior Loa Madon (Vista, Calif.), and the Wildcats secured their second takeaway on their next defensive play as junior Andrew Oney (Spanaway, Wash./Spanaway Lake HS) recovered a Darryl Valdez fumble at the WOU 25. However, after advancing 18 yards on five plays, Davis missed a field goal that would have extended the lead to 6-0.

Guice then caught his team-leading fourth touchdown pass of the season with 3:41 left in the first quarter, but Davis' extra point sailed wide to keep the score at 9-0.

Central added another field goal early in the second period after an 11-play drive was capped off by a 29-yard field goal by Davis.

The Wildcat defense continued to shut down Western Oregon for the rest of the opening half, as the Wolves did not advance into Central territory over the first three quarters of play. The Wildcats added an interception by senior Jared Silva-Purcell (Honolulu, Hawaii/St. Louis HS) late in the first half for their third (and final) takeaway of the game, but were forced into a punting situation on the ensuing series with 1:11 to go before halftime.

In the second half, Central was unable to score on either of its first two series but held Western Oregon off the scoreboard as well. The Wildcats put their final points on the board on their third possession of the third quarter, as Robertson connected with senior Chris Smith (San Diego, Calif./Helix HS) on a 24-yard touchdown pass to push the score to 19-0.

On defense, CWU stymied Western Oregon throughout. The Wildcats forced the Wolves into punts on six consecutive second-half possessions, the first five of which were three-and-out series. Then, later in the fourth quarter, Central denied WOU on downs in consecutive possessions to help preserve the shutout win.

Central's defense was keyed by the efforts of senior Adam Bighill (Montesano, Wash.), who tied for game-high honors with 12 total tackles, including three quarterback sacks and five total tackles for losses, also forcing a fumble. Oney had the best game of his junior campaign with six tackles including 4 1/2 for losses, a fumble recovery, and a blocked punt as well, adding two quarterback sacks as the Wildcats got to Western Oregon quarterbacks A.J. Robinson and Evan Mozzochi for seven sacks in the game -- their most since a nine-sack outing against Mesa State on Sept. 6, 2008.

Offensively, Robertson completed 19 of 35 passes for 177 yards and the two scores while being intercepted once. Redshirt freshman running back Ishmael Stinson (Tacoma, Wash./Charles Wright Academy) was the top pass-catcher with six receptions for 43 yards, although Smith finished with a game-high 65 receiving yards on four catches.

In the back field, true freshman Levi Taylor (Spokane, Wash./Lewis and Clark HS) led all players with 42 rushing yards on 15 carries, while Stinson netted 34 yards on the same number of attempts.

Western Oregon's top rusher was Mozzochi, who played the entire second half at quarterback and finished with 12 net rushing yards. He was 8 of 19 passing for 52 yards in the contest, while the starter Robinson was 4 of 8 with two interceptions and just 47 yards.

The Wolves defense was led by linebacker Scotland Foss, who matched Central's Bighill with 12 total tackles.

Central Washington will now play its final three games of the regular season at home, first turning its attention to the GNAC-leading Humboldt State University Lumberjacks next Saturday (Oct. 23) for Homecoming. Central suffered its lone conference loss to HSU (6-1, 4-0 GNAC) on Oct. 2, which snapped a 28-game conference winning streak. Kickoff is set for 1 p.m. at Tomlinson Stadium.