Apple Valley Dental and Orthodontics Services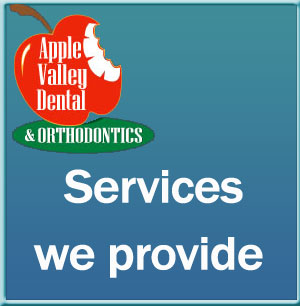 At Apple Valley Dental and Orthodontics we take care of our patients by having several areas of expertise and highly accredited dentists. We offer Whitening/Bleaching, General dentistry, pediatric dentistry, cosmetic dentistry, and orthodontics. We have a pleasing atmosphere to our patients with and espresso and sandwich shop as well as a children's game room. Come and see us!
Whitening/Bleaching
Over time our teeth tend to become discolored or stained. Whether this is from smoking, coffee, or any other foods, a beautiful smile could be closer than you think. We offer a safe, inexpensive solution to an unsightly smile. Whitening your teeth is a very simple procedure that can be completed in relatively short period of time.
Procedure
The first step in the whitening process is impressions. We will take full impressions of your upper and lower teeth. These impressions will be made into custom bleaching trays. The trays will fit onto your teeth perfectly so there is a small possibility of gum damage from the bleaching solution.

The second step is to place the bleaching solution in the trays and wear them for a few hours a day. Within 7-10 days, you will see a significant improvement in the color of your teeth. Your smile will look brighter and younger. We will take before and after photos so that you will be able to compare the amazing transformation.

Bleaching only works on natural teeth and may not be effective in all cases. We will inform you as to the potential whitening for your specific situation.

General Dentistry
At Apple Valley Dental and Orthodontics we are here to take care and cure your teeth. OUr Certified Dentists will diagnosis, evaluate, prevent and/or treat various diseases or the disorders and circumstances of the 'oral cavity' and 'maxillofacial area' or the contiguous and allied arrangements and their effect on the body of a human being'. The treatments can include various procedures including the surgical or the non-surgical methods.

Pediatric Dentistry
Pediatric dentists receive special training in easing a child's fears about dental visits. They work hard to assure a child's comfort during dental procedures by providing a kid-friendly environment. A dentist usually begins by explaining how dental instruments will be used. The dentist then tells the child what procedures will be performed and how they will be performed. The dentist answers any questions the child might have. Body language is used to assure a child. Offering big, warm smiles and talking to the child in a slow, gentle voice can have a calming effect. A good dentist can handle frightened, uncooperative children in a patient and friendly manner.
Conscious Sedation


While very young children might be afraid when they go to the dentist, most children cooperate for dental procedures. However, in some instances, a pediatric dentist might choose to use conscious sedation to minimize pain and discomfort associated with a dental procedure. According to the American Association of Nurse Anesthetists (AANA), conscious sedation is a safe option for patients undergoing minor procedures. This type of sedation is also considered safe for children when administered by a pediatric dentist who follows the sedation guidelines of the American Academy of Pediatric Dentistry. The technique allows a child to keep his or her eyes open and speak during dental treatment. In most cases, the drugs are administered orally. Sedatives are used to relax the child, causing drowsiness. Insurance companies often do not approve payment for dental procedures performed under general anesthesia. Therefore, the only way a dentist can treat an uncooperative or anxious child is to use conscious sedation. Evaluation prior to administering sedating drugs includes carefully reviewing a child's medical history and current medications and allergies. A child's heart rate, blood pressure and breathing are closely monitored while under sedation. Side effects can include nausea, vomiting and headache.


Cosmetic Dentistry
is another service offered by the field of dentistry. Basically, Cosmetic dentistry is the regulation within the dentistry, in which the principal center is the adjustment of manifestation of the 'oral cavity' and the adjacent arrangement of the patient, in combination with the avoidance and the treatment of the structural, organic, or even the functional oral sickness.


Orthodontics
Braces etc....

Espresso and Sandwich Shop
At Apple Valley Dental & Orthodontics we want to provide you with specialty coffees and exquisite sandwiches during your visit. We assure you that a visit at our office will be like no other! Come and see us today!