Franklin County deputies looking into new search & rescue robot
Posted:
Updated: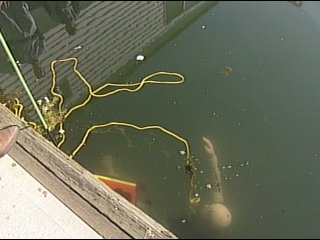 KENNEWICK, Wash. -- Franklin County deputies are hoping to raise enough money to buy a new member, one that can pitch in it's efforts for the Columbia Basin Dive and Rescue team, The SARbot, short for the search and rescue robot. SeaBotix, worked closely with a dive search and rescue team to develop the special remotely operated vehicle.
Franklin County Deputy, Terry Brown wants to see one in our area. "this robot has the ability to stay underwater almost indefinitely, versus a diver that can only stay underwater for x amount of minutes before they have to come back to the surface. Just between Benton and Franklin Counties, we're talking 8-10 drownings, per year that this robot could respond to," says Brown.
The $87,000 robot is deployable in less than four minutes. It's operated by a remote control and can withstand different water conditions and currents. It can operate in zero visibility waters and has a real time camera. "in the water, you can rarely see much farther than 4-5 feet in front of you unless its tropical water. So the sonar technology is like an ultra sound and it can see much larger, we can see 150 feet in front of us depending on what it is we're looking for," says Jesse Rodocker the marketing director for SeaBotix. Other agencies have used the robot for military weapon retrieval, black box retrieval in plane crashes and actual rescue operations. The SARbot has a claw that can grasp and pull up to a thousand pounds.
Dan Blasdel, the Franklin County Coroner wants Benton and Franklin Counties to pitch in with neighboring communities for the robot. "Faster retrieval means there is closure for the family and it also means that we recover bodies before they decompose, rather than wait until they decompose and then pop to the surface," Blasdel. He says he hopes to see non-for profit agencies come together, bake sales from the community and general donations.
If you're interested in donating, contact the Franklin County Sheriff's office at 509-545-3510.