Gesa opening new branches at Kennewick high schools
Posted:
Updated: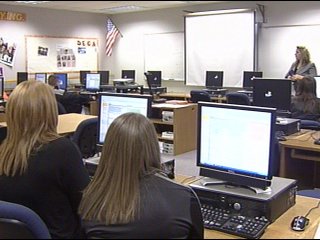 KENNEWICK, Wash.-- Gesa Credit Union has opened three new branches, but it's not what you think. These new branches are in high schools in Kennewick.
Teresa Shively, Education Specialist for Gesa, says, "We're very excited about our new partnership with the Kennewick School District. We've opened 3 new school branches- Kennewick, Kamiakin, and Southridge." Gesa has had student-run branches at schools in Richland and Pasco for several years now. Because of their success, KSD added branches this year.
At Kennewick High, students in a marketing management class have taken the reins. Deborah Ramirez, senior in the class says, "The biggest thing we're working on right now is promoting our bank [credit union], Gesa. We're making flyers, brochures. We're thinking of ideas like handing out candy to students to get them more aware."
The students are also operating the credit union branch. Senior Alex Simons explains, "We do the transactions and deposit people's checks and give them their money and open new accounts."
Shively, with Gesa, says she hopes these skills carry over. "The skills that these students are learning right now, whether they're working in the branch or working on a marketing campaign, they are going to take these with them when they graduate."
Students say they like learning by running the credit union, more than learning out of a book. "It's easier to learn because you actually communicate with people. It's more like a hands-on thing. You actually do what you're doing, instead of writing about it, you do it," explains Michelle Meehan, also a senior in the marketing management class.
The class says the goal is to have every student at Kennewick High signed up by the end of the year.