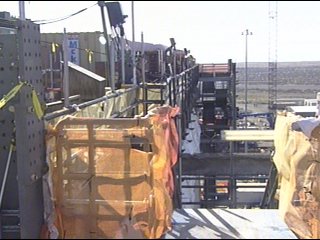 NORTH OF RICHLAND, Wash.— Workers at Hanford's Vit Plant are building the largest radioactive waste treatment plant for the Department of Energy. Construction started in 2001, and nine years later they are still building.
The Vit plant is one of a kind. The site and four nuclear facilities take up 64 acres.
"We have over 260,000 cubic yards of concrete and almost a million feet of pipe to install, and over four and a half million feet of cable to pull into this job, so those are big numbers," says David Leeth, Manager of Construction.
That means everything is bigger. The amount of structural steel used is equivalent to three Eiffel Towers. The amount of concrete is enough to fill more than 26,000 concrete trucks. The buildings are more than halfway complete, some will be up to 120 feet tall.
Over 3,000 people are working to complete the site by 2016, but cleaning up the 53 million gallons of radioactive and chemical waste stored in underground tanks at the site won't begin for another three years after that.
Click here for a link to Bechtel's Hanford Vit Plant website.