Mabton Football: A Rewarding Connection
Posted:
Updated: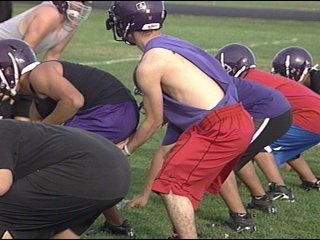 MABTON, Wash. -- Sometimes sports are what is needed to change a life. In Mabton, football has helped make two lives a whole lot better.
"The best thing that ever happened to me was getting blown up by a bomb because it made me look at life as a precious commodity," said Sergeant Shane Thorson.
In April of 2005, Shane Thorson was an Army sniper in Iraq when a bomb blast changed his world forever.
"I still don't even have all the feeling in my left hand," said Thorson. "There are days I struggle to even walk."
Thorson spent 2 tours in the Army as a sniper and officer and when he returned every day was a struggle.
"Trying to get back to reality, trying to get back from where bullets are coming at you, bombs are coming at you," said Thorson.
But soon, help came from an unlikely place. Thorson become the head football coach at Mabton High School and he met a senior running back named Noe Gutierrez.
"The kid never takes a play off," said Thorson. "Whether it's in a practice, whether it's in a game, I've been around football many, many years. I've never seen a person work as hard as he does. It inspires me to try and do better in my life."
"Not many people tell me that stuff," said Gutierrez. "He's one of a kind, I guess."
"He deserves more than what I feel like I can give him," said Thorson.
"It shows that he has heart," said Gutierrez. "Knowing that somebody has heart in the whole team pushes me too."
Thorson believes Gutierrez has brought new light into his life and Gutierrez is showing just what he has learned from his coach. He has a 3.6 GPA and he has his eye on college next year.
"They say the World War II Veterans are the best generation ever and I completely disagree with that," said Thorson. "Our best generation is yet to come."
In this player-coach relationship, the player is teaching his coach many of life's lessons.
@