Teen dating violence seminar
Posted:
Updated: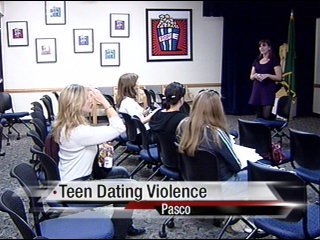 PASCO, Wash. -- October is National Domestic Violence Awareness Month, so Domestic Violence Services of Benton and Franklin Counties is hosting several events to raise awareness.
Wednesday night both teens and adults were invited to talk about teen dating violence at Columbia Basin College.
Young women between 16-and-24 are more likely than any other group to experience intimate partner violence. One-in-three young women will experience some form of dating violence in their relationships.
Domestic violence leaders want you to recognize the warning signs. "Hopefully what dating violence looks like, those red flags to see in a relationship and mostly how do you help if someone you know and love may be in a dangerous and scary relationship. What are the things you can say and do to help support them, said Erinn Gailey, the program director at Domestic Violence Services of Benton and Franklin Counties.
Domestic Violence Services of Benton and Franklin Counties provides help 24-hours a day through a crisis line(582-9841), emergency shelter, legal help, support groups, resources and referrals, community education, children's services and other support services for domestic violence victims and their children.
On October 28th, the Annual Candlelight Vigil will held at 6:15 p.m. in John Dam Plaza in Richland. The event features 32 life-size silhouettes representing every victim killed as a result of domestic violence in the Tri Cities are since 1998. Friends and family are invited to memorialize the silhouette of their loved ones.