Yakima Holds Bone Marrow Drive Friday
Posted:
Updated: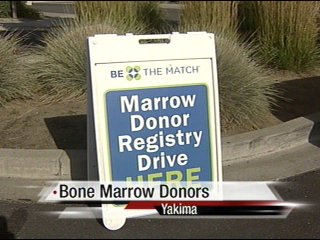 YAKIMA, Wash- In a health alert, every year more than 10,000 people in America are in need of life saving bone marrow transplants. But most of them do not find matches which often means they die. However the National Bone Marrow Donor Program Registry known as "Be the Match" is trying to increase the number of potential donors, and lives that can be saved
Although there are about 14,000 registered donors worldwide, finding a match is difficult. A person's best bet for a bone donation is a close relative, but only about 30% of people find their match this way. The others hope to find a matching donor through the national registry. But because genetics is a huge factor, people of mixed ethnicity and minorities have an even harder time finding a match.
"People migrate from countries across countries as we see more mixed marriages it become harder to match children and adults of mixed heritage", Cristina Klatovsky of the National Marrow Donor Program.
Tomorrow Memorial Hospital in Yakima is having an event to get as many new potential donors as possible. From 9 a.m. to 7 p.m. you can drop by the North Star Lodge Cancer Center at 808 N. 29th Avenue in Yakima and sign up.
The process takes about 10 minutes. All you do is fill out a form, and rub a few cotton swabs on your cheek. You will then be put into the registry and contacted if you're a match. Signing up for the registry does not mean you will definitely be a donor; you will only be contacted if you are a match for someone. If you are a match you can choose to go through with the marrow donation or not. Signing up does not obligate you to anything.