New Outdoor Plaza in downtown Yakima
Posted:
Updated: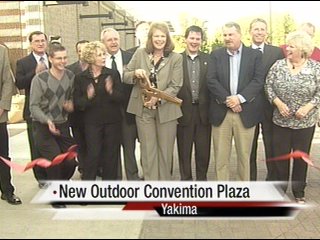 YAKIMA, Wash. -- Yakima City leaders and local state representatives joined in on Thursday's dedication ceremony for the new Outdoor Plaza in downtown Yakima.
The Convention Plaza Project includes a privacy rock wall, outdoor seating, landscaping, and overhead lighting outside of the Yakima Convention Center.
Outdoor Plaza is part of Phase IV of the Downtown Futures Initiative to make improvements to 8th Street between "A" and Chestnut. The plaza added nearly 7,000 square feet of outdoor space to the convention center.
"The Outdoor Plaza will add a new venue downtown for outdoor celebrations, festivals, and events. And it helps to further the cause of rejuvenating downtown Yakima," said John Cooper, President & CEO of Yakima Valley Visitors and Convention Bureau.
The estimated $850,000 project is being funded through the Washington State Legislature Capital Budget; with the efforts of 14th District's Senator Curtis King, Representatives Charles Ross and Norm Johnson, and 13th Legislative District Representative Judy Warnick.
Mayor Micah Cawley, City council member Kathy Coffey and Yakima County Commissioner Rand Elliott were also present at the dedication ceremony.
In 2009, the Yakima Convention Center brought in more than $7 million in economic activity and served more than 150,000 people.
Belsaas & Smith Construction, Inc. of Ellensburg was awarded the contract for the Outdoor Plaza by the City of Yakima. Architecture firm was KDF Architecture of Yakima.