Effects of ban on "SPICE" and K2
Posted:
Updated: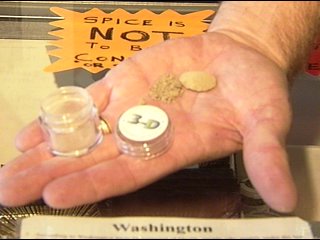 RICHLAND, Wash. -- Recently the states of Idaho and Oregon have banned the synthetic marijuana substance called "Spice" or K2, but in Washington State, it's still legal.
The purchase and use of this product is illegal in several cities and states across the country. The incense called "Spice" or K2 has drawn complaints from some people who say it's dangerous.
With Oregon and Idaho being the most recent additions to that list, retailers like Timothy Adams say its been used wrong, "It's just an incense. Not for human consumption, and we don't sell it for human consumption or for smoking purposes at all."
While the state of Washington has a law currently banning synthetic marijuana, that law doesn't effect products like "Spice" or K2 because no part of the actual marijuana plant is used in the spice. These products contain a mixture of herbs and spices that create the same kind of high as marijuana.
But complaints in Idaho and Oregon prompted officials like Gary Schnabel of the Oregon Board of Pharmacy to release a statement to Oregon citizens saying, "Across the country, state legislatures and boards of pharmacy are passing laws and regulations to restrict the sale of these products in the interest of protecting the public. The board believes that now is the time for Oregon to take similar action to protect the health and well being of our citizens."
Adams says he sells the product only to people above the age of eighteen to avoid misuse, but he stresses people must be responsible for their actions, "It's kind of to the public to use a product right. It's not up to the people that sell it. The people that sell spray paint don't expect people to huff spray paint, and that's an epidemic. There's a lot of products, people are getting a hold of that they're using wrong."
Timothy Adams adds that he hasn't seen an increase of people from Oregon or Idaho coming to his business. But, if "Spice" or K2 were made illegal in the state of Washington, he says he could lose a lot of money in sales.