Central earns redemption against Humboldt State
Posted:
Updated: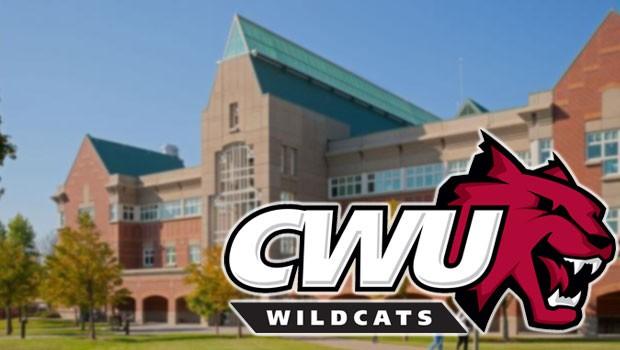 ELLENSBURG, Wash. (Oct. 23) -- Central Washington University senior wide receiver Kollin Hancock (Columbus, Ohio/Gahanna Lincoln HS) had a career-high 95 receiving yards and one touchdown, and the Wildcat defense stifled the Humboldt State University running game en route to a 26-18 Homecoming football victory over the Lumberjacks on Saturday afternoon at Tomlinson Stadium.

The Wildcats regained the lead in the Great Northwest Athletic Conference standings by improving to 6-3 overall and 5-1 in conference play. They also locked up a winning record for the ninth consecutive season by defeating the Lumberjacks, who saw a six-game winning streak snapped in falling to 6-2 (4-1 GNAC).

Hancock, Central's third-leading receiver on the season who had gone without a reception in either of his past two contests, scored the game's opening points late in the first quarter as he broke multiple tackles and scampered 33 yards for a touchdown as the Wildcats took a 7-0 lead.

Sophomore quarterback Ryan Robertson (Sammamish, Wash./Eastlake HS), who threw for 151 of his 190 yards in the first half, engineered another scoring drive as the game transitioned from the first to the second quarter. He capped a 12-play, 75-yard drive with another scoring pass, this time to senior Chris Smith (San Diego, Calif./Helix HS) from 38 yards away as the Wildcats took a 14-0 lead.

Central added to its lead on the very next offensive series, as redshirt freshman Ishmael Stinson (Tacoma, Wash./Charles Wright Academy) started and finished a six-play, 65-yard series with a 43-yard run on the first play and then a one-yard score at the end of the possession as the Wildcats pushed their lead to a 20-0 lead after their two-point conversion attempt failed.

Meanwhile, the CWU defense continued to stymie its competition. Entering the game on the heels of consecutive shutouts, the Wildcats held the GNAC's top scoring offense in check for most of the opening half until the Lumberjacks got on the scoreboard on a five-yard pass from Mike Proulx to Chris Bolt. The possession, which began at the HSU 16, was aided by a pair of deadball penalties against Central after the Wildcats had held the Lumberjacks on third-and-10. The touchdown ended a scoreless streak of 146 minutes, 2 seconds, for the Wildcat defense.

In the second half, with Central Washington leading 20-7, neither team mustered anything offensively on its first possessions as both teams went three-and-out. Humboldt State did move the ball down the field and into the red zone before a sack by Taylor Tanasse (Yakima, Wash./West Valley HS) forced the Lumberjacks behind the 20. Brian Blumberg, who had kicked the game-winning field goal to defeat CWU three weeks ago, booted a 40-yard field goal to make it a 10-point contest.

Central held Humboldt State on a fourth-down fake punt play inside HSU territory, which the Wildcats converted into three points on a 44-yard field goal by sophomore Sean Davis (Federal Way, Wash./Todd Beamer HS), and senior Loa Madon (Vista, Calif.) turned away the Lumberjacks on the next play from scrimmage with his second interception in as many weeks as the third quarter came to a close.

The Wildcats had ample opportunities to add to their 13-point lead in the fourth quarter, setting up for field goals on each of their first three possessions, but they came away with just three points after a missed field goal and an incomplete pass on a fake field goal. Davis added Central's final points of the game with a 32-yard field goal with 3:10 remaining that extended the lead to 26-10.

Aided by three CWU penalties that totaled 40 yards, Humboldt State ascended down the field and cut its deficit in half as Lyndon Rowells scored on a one-yard carry with 1:58 remaining, and Proulx's two-point conversion run made the score 26-18. However, the Lumberjacks' ensuing on-side kick went out of bounds and Central ran out the clock to preserve the victory.

Central Washington again had an edge in total offense (340 yards to 220) and time of possession (34:52 to 25:08), and overcame 120 yards in penalties on the day. Robertson narrowly missed a 200-yard passing day, but the Wildcats were bolstered by a 150-38 edge in the running game. Stinson had 79 rushing yards on 13 carries, while true freshman Louis Davis (Tacoma, Wash./Wilson HS) had a decent debut with 53 yards on 21 carries.

Hancock, whose previous season-high for receiving yards was 88 against Eastern Washington, accounted for half of the Wildcats' receiving yards.

The Wildcat defense held Rowells, one of the top rushers in the NCAA Division II, 85 yards below his season average of 111 yards per game (26 yards on 14 carries Saturday). Proulx was 18 of 36 passing for 175 yards for the Lumberjacks.

Among the defensive standouts for CWU was senior Adam Bighill (Montesano, Wash.) with eight tackles, while Madon added seven tackles and Tanasse had four. That threesome combined for five of Central's seven tackles for losses in the game.

Humboldt State was led defensively by Michael Lynch with 12 tackles, while Chris Peterson added nine tackles including two quarterback sacks.

Central Washington will take next week off from games for its only bye week of the 2010 season. The Wildcats will then resume play on Nov. 6 against Simon Fraser University with a 12:05 p.m. kickoff at Tomlinson Stadium.
COLLEGE FOOTBALL
WEST REGION
NCAA DIVISION II/GREAT NORTHWEST ATHLETIC CONFERENCE
Central Washington 26, Humboldt State 18
Score by Quarters 1 2 3 4 Score
----------------- -- -- -- -- -----
Humboldt State...... 0 7 3 8 - 18 Record: (6-2,4-1)
Central Washington.. 7 13 3 3 - 26 Record: (6-3,5-1)
Scoring Summary:
1st 04:34 CWU - Hancock,Kollin 33 yd pass from Robertson,Ryan (Davis,Sean kick), 5-63 1:46, HSU 0 - CWU 7
2nd 12:45 CWU - Smith,Chris 38 yd pass from Robertson,Ryan (Davis,Sean kick), 12-75 5:40, HSU 0 - CWU 14
07:43 CWU - Stinson,Ishmael 1 yd run (Madon,Loa pass failed), 6-65 2:54, HSU 0 - CWU 20
05:10 HSU - Bolt,Chris 5 yd pass from Proulx,Mike (Bruder,Matt kick), 10-84 2:28, HSU 7 - CWU 20
3rd 06:50 HSU - Blumberg,Brian 40 yd field goal, 11-40 5:01, HSU 10 - CWU 20
00:42 CWU - Davis,Sean 44 yd field goal, 4-3 1:07, HSU 10 - CWU 23
4th 03:10 CWU - Davis,Sean 32 yd field goal, 7-14 2:48, HSU 10 - CWU 26
01:58 HSU - Rowells,Lyndon 1 yd run (Proulx,Mike rush), 5-70 1:10, HSU 18 - CWU 26