Drink, not drugs, sickened CWU students at Roslyn party
Posted:
Updated: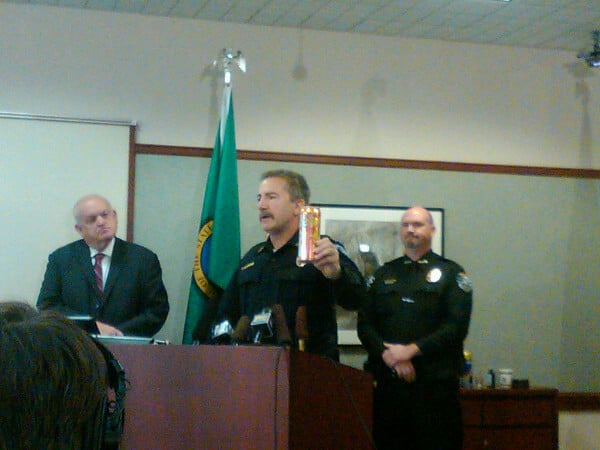 ELLENSBURG, Wash. -- The Central Washington University campus police chief says students hospitalized after a Roslyn house party on October 8th were not given drugs or alcohol against their will.
Toxicology reports confirmed no date-rape drugs were given to the nine sickened students. Officials do, however, say those hospitalized consumed the caffeinated malt liquor drink, "Four Loko".
The University announced at a news conference Monday that blood-alcohol content ranged from .12% to .35%.
The University President, Dr, James Gaudino, has banned alcoholic energy drinks on campus pending a review of student education procedures. State Attorney General Rob McKenna has called for a national ban on beverages like Four Loko. The FDA is looking into the safety of the drinks.
About 50 students attended the house party. No criminal charges will be filed.
Four Loko is made by Phusion Projects Inc., of Chicago. It comes in several varieties, including fruit punch and blue raspberry.
23 intoxicated students were hospitalized over the span of a few weeks last month at northern New Jersey's Ramapo College after drinking Four Loko.
- - - - - - - - - - - - - - - - -
The following Statement was provided to KNDO by a Four Loko representative:
The unacceptable incident at Central Washington University, which appears to have involved hard liquor, such as vodka and rum, beer, our products, and possibly illicit substances, is precisely why we go to great lengths to ensure our products are not sold to underage consumers and are not abused. As a company, we do all we can to ensure that our products are consumed safely and responsibly.
Caffeinated alcoholic beverages, like Four Loko, have become popular products nationwide. Widespread media coverage of these beverages, and incidents in which they've been abused and used illegally, have raised questions about them and about their place in society.
Consuming caffeine and alcohol together has been done safely for years.
People have safely enjoyed mixing alcohol and caffeine products for years in their homes, and in restaurants and bars. Having coffee after a meal with wine, or consuming rum and cola, an Irish coffee or a Red Bull and vodka are all popular practices. Our products contain less alcohol than an average rum and cola, less alcohol and caffeine than an average Red Bull and vodka, and are comparable to having coffee after a meal with a couple glasses of wine. In addition, there are literally hundreds of pre-mixed, spirit-based caffeinated alcoholic beverages being sold and consumed in the United States today. Our products are not energy drinks, as they've been called – and when consumed responsibly, they are just as safe as any other alcoholic beverages. This conclusion was recently affirmed by way of a study we had prepared in response to a U.S. Food and Drug Administration's requests for information which found that combining alcohol and caffeine is safe. An independent panel of scientific and food safety experts unanimously concluded that combining caffeine and alcohol is safe. The agency's scientists are currently evaluating the data and information and are assessing whether any further regulation of caffeinated alcoholic beverages is necessary.
We market our products responsibly, and only to those of legal drinking age.
We are strong believers in the idea that the more people know about our products and how to enjoy them safely, the better off everyone will be. This is why we go above and beyond state and federal legal requirements to inform consumers and retailers that our products are alcoholic beverages. Our cans feature seven different warnings about the product's alcohol content and the necessity of an ID for purchase. And we're the only manufacturer of caffeinated alcoholic beverages to prominently place a 'WE ID' message on our can. We also offer free, point-of-sale materials to stores selling our products that reinforce the importance of asking for identification when selling any alcoholic beverage.
When it comes to marketing our products, in addition to the can labels and point-of-sale materials that all carry responsible drinking messages, our company has taken a unique position and made a conscious effort to reject the social media marketing tactics that other companies embrace – including many of our competitors. There is no company-sponsored "Four Loko" Facebook page or YouTube channel.
Our efforts are ones we want more parents, educators, consumers and regulators to know about and understand. This is why we house numerous materials on our website about our commitment to safe and responsible alcohol use. We welcome any and every opportunity to discuss our company, our products and our commitment to operating responsibly.
Making college campuses safe and healthy environments for learning is a goal we share with administrators – even those who have chosen to ban our products.
No one is more upset than we are when our products are abused or consumed unlawfully by underage drinkers, which appears to have been the case at Central Washington. However, we also know that curbing alcohol abuse on college campuses will not be accomplished by singling out a lone product or beverage category. The only answer lies with increased education and awareness by all involved and with respecting the law.
This is why we intend to not only continue our current responsible drinking efforts, but to build on them as well. We want to be part of the solution to this age-old problem, and we see addressing this issue as both a fundamental priority and an ultimate responsibility we share with the entire alcoholic beverage industry.
We welcome an open dialogue about the ways responsible companies, schools and organizations can combat underage drinking and alcohol abuse. We are proud of the work we do to ensure our products are used properly and only by adults of legal drinking age. We look forward to working with all interested parties to ensure that our products, and all alcoholic beverages, are consumed safely and
Craig Brownstein
Edelman - Washington, DC
P: 202.326.1799 C: 202.390.1602