Retailers Hiring for Seasonal Employment
Posted:
Updated: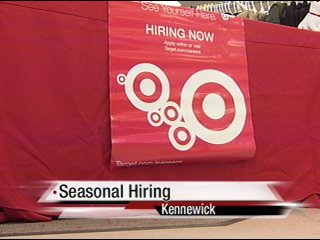 KENNEWICK, Wash. -- It that's time of the year again, the time retailers throughout our area look for additional help during the holiday season. As the holiday season approaches, many businesses will be looking to increase their payrolls with new seasonal employees.
For job seekers like Chris Puzycki, getting a seasonal job would not just mean extra cash, for him, it would be the only cash, "I lost my job about a month ago so, I'm dependent on the money actually. So, it's pretty nice to get work experience because I am going to college too, so it's nice to get that out of the way."
While there are no numbers that show an increase or decrease in the number of people looking for seasonal work, Candice Bluechel of Workforce Columbia Basin says compared to the last two years, there seems to be more employers looking for help, "This year it seems like there's more activity going on in the hiring process, where before I don't know if they sought out as much that connection with job seekers."
Employers like Target are just one of many places looking to expand their work force for this upcoming holiday season.
Target team leader, Chris Sanders says the job fair held on Monday at the Richland location brought out a lot of potential employees, "Turnout has been really good, a whole lot of people have showed up. We've been real pleased with that. We are about halfway to where we need to be for our hiring needs and we're still looking for multiple positions. There still lots of people."