Union Gospel Mission is running out of room
Posted:
Updated: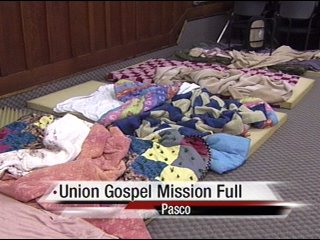 PASCO, Wash. -- The Union Gospel Mission in Pasco says every bed is full and they are even running out of floor space. Mission leaders say they have never had so many people.
Andrew Porter is the Assist Executive Director at the mission. He says they have 45 beds and 98 people staying there. That means more than half the homeless people at the Union Gospel Mission in Pasco are sleeping on the floor.
"We see an increase of 10-15% during the winter and that'll start to drop down in the spring and summer. But this last spring and summer, we didn't see that drop," says Porter. Instead, numbers are rising. "Over the last 12-15 months, we've seen the number of people we serve rise about 80 to 90%," explained Porter.
The mission has had to convert its chapel into a giant bedroom with nearly 50 foam mats that will be rolled up and stashed away when it's time to turn the room back into a chapel.
Russell Barnes is staying at the mission. He tells KNDU, "I've been here at the mission for about 19 months. Since I've been here, the numbers have probably doubled."
The family and women's shelters are also full and the mission is running out of space. Porter says, "we want to be able to help everybody that comes to our doors, but we are literally at busting point."
Right now, they are working on finding an overflow location. "One of our ideas is finding a church that maybe has a gymnasium or multi-purpose room that we can use," says Porter. He also tells KNDU he hopes to find a solution before the weather gets any colder.