Economists at CWU conference say economy is on the right track
Posted:
Updated: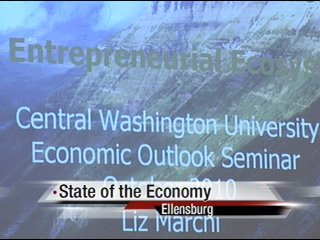 YAKIMA, Wash- Economists, educators and business people from across the state were in Ellensburg Tuesday talking about where the state and national economies currently stand and where they're going.
"The recession ended a year ago and we've been in an upturn since that point in time but it's not been vigorous enough to result in dramatic declines in the unemployment rate", said economic consultant Dr. John Mitchell.
"...But the growth is still positive we just have to be patient and hang in there and before you know it, we'll be out of it, noted Dr. Arun Raha, the chief economist for Washington State.>
That sums up the main message of Tuesday's Central Washington University Economic Outlook Conference. Some presenters pointed out that areas like net worth, private sector jobs, and small business lending are increasing, but very slowly. This is hard for people to see on a daily basis.
"Private sector employment has been rising every month this year but it's been masked in part by what's going on with the census lots of hiring then letting people go", says Mitchell.
The same happened with the first time home buyer tax credits. After they ended, home sales dropped producing headlines about the real estate market's dramatic decline and sending mixed messages about the economy.
"And that's what people see but you have to sort of step back from that", reminds Mitchell.
The state's chief economist also noted that Washington leads the country in three areas that will increase personal income: Exports, Boeing's growth, and the expansion of Microsoft.
"For these three reasons I expect Washington to do better than the rest of the nation", Raha predicted.