AARP programs helps seniors get work
Posted:
Updated: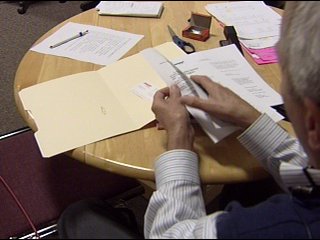 RICHLAND, Wash. - A local AARP program is helping Tri-Cities seniors get back to work, but now it's getting tougher.
A report by AARP say one in three workers are over the age of 50 and in order for them to keep up with employers they must meet the skills in demand of the 21st century workplace. Which is what the AARP program does, it trains seniors and places them in jobs.
Tri-City native, Ronda Jayne started the program about 2 weeks ago and is currently working for Habitat for Humanity on assignment. She'll continue to work there as long as there is work, but in the meantime she's looking for a job.
"There's a lot of things that are stressful about looking for work period. The monotony of it, the lack of response when you do put in an application, it's bothersome," said Ronda Jayne.
Jayne says the hardest part is competing with the younger generation, especially since they're more technologically advance.
"Most businesses are very fast paced, very busy and are not able to afford you the time you need to do the job well," said Jayne
AARP representative Randy Dennison says it's tough for most seniors. In fact, he says it's discrimination he sees all to often.
"I can know about a job and I can go down and they can interview and they hire a younger person, almost exclusively pretty much. Even though they have years and years of experience," said Dennison.
He adds that since the announcement of the no increase in social security benefits they've seen a 20% increase in seniors looking for jobs. As of now the AARP program is full, but they are still accepting applications.