Church pianist in Kennewick lives at homeless shelter
Posted:
Updated: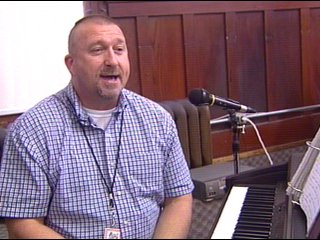 KENNEWICK, Wash.-- One pianist at a Kennewick church got involved and learned how to play after sobering up from years of alcoholism. Duane McMillin plays at South Hills Church in Kennewick. He says, "I lead worship at my church on Thursday nights. God has done an incredible work in me, he's taught me music."
However, a year ago, it was a different story. McMillin was an alcoholic and homeless. He went to the Union Gospel Mission in Pasco. "I first came here October 11th of 2009. The reason I came here is because I had a drinking problem," he explained. McMillian joined the "New Life" program, a 13-month Mission program that helps addicts through religion.
McMillin says as his recovery progressed, he started attending South Hills church regularly. A few months ago, the church needed someone to play the piano, so he volunteered because he had played music before. He says he used to get drunk and play the blues in the bars. "I really didn't know that much about music. I knew how to play piano in 2 different chords/ 2 different keys. I did it rather well, so I could fake my way." Once joining the church, he realized he needed to learn how to actually play the piano and has since honed his craft.
McMillin has even written his own songs, both music and lyrics. He says his favorite is called "Let Renovation Start." He plans to continue playing the piano, spend another year in the New Life program, and maybe become a chaplain.