Terror plot thwarted as US-bound explosives seized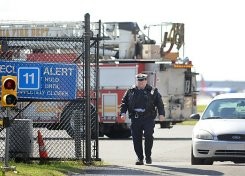 WASHINGTON (AP) - Authorities on three continents thwarted multiple terrorist attacks aimed at the United States from Yemen on Friday, seizing two explosive packages addressed to Chicago-area synagogues and packed aboard cargo jets. The plot triggered worldwide fears that al-Qaida was launching a major new terror campaign.
President Barack Obama called the coordinated attacks a "credible terrorist threat," and U.S. officials said they were increasingly confident that al-Qaida's Yemen branch, the group responsible for the failed Detroit airliner bombing last Christmas, was responsible.
Parts of the plot might remain undetected, Obama's counterterror chief warned. John Brennan said at the White House that "The United States is not assuming that the attacks were disrupted and is remaining vigilant."
One of the packages was found aboard a cargo plane in Dubai, the other in England. U.S. officials said preliminary tests indicated the packages contained the powerful industrial explosive PETN, the same chemical used in the Christmas attack. The tests had not been confirmed.
In the U.S., cargo planes were searched up and down the Eastern Seaboard, and an Emirates Airlines passenger jet was escorted down the coast to New York by American fighter jets.
No explosives were found aboard those planes, though the investigation was continuing on at least two.