National Day of Remembrance for Hanford Workers
Posted:
Updated: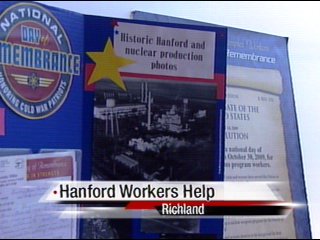 RICHLAND, Wash., -- October 30is the second annual National Day of Remembrance for workers exposed to nuclear materials and uranium. Congress recognized what these people did for our country during the cold war and bomb making process. Hanford is one of 23 major facilities where people helped build nuclear defenses for the US post War World II.
Many local people in the Tri-Cities are now sick after being exposed. Gaidine Oglesbee, a former Hanford employee says,

"I was exposed to a lot of radiation and chemicals in my office and b-plant." She has since suffered a stroke and other health problems. Cold War Patriots is an organization that helps about 600,000 people nationally in similar situations nationally. Congress also introduced the Energy Employees Compensation program, one that covers all their medical bills.
"There was some monetary compensations with cancers, illness caused by toxic exposures but the biggest benefit for the employees is that they can have nursing care and medical care free of charge.," says Faye Vlieger who is an Advisory committee Member and a former Hanford Employee. "I was exposed to a gas through an AC vent and had chemical burns on every part of my body that was exposed and it curled my contact lenses. This happened in 2002 and I settled my claim in 2004 and am still awaiting compensation," says Vlieger. She says she lost her job and had no disability benefits because she wasn't in a union. So she joined the Cold War Patriots who are helping others in similar situations. "We now know what mistakes not to make, what documentation they want, how to do the paperwork and we have a number of doctors which we didn't have before that we know are able to recognize the illness and do the documentation that's required," says Vlieger.

To contact Cold War Patriots click here.