Future of Yakima government on the ballot in February
Posted:
Updated: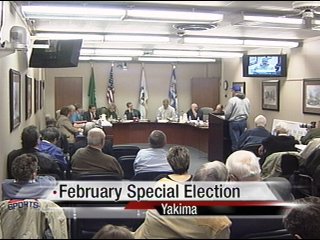 YAKIMA, Wash- While many people are focused on Tuesday's election, Monday the Yakima City Council made a decision that's turning heads towards the February ballot. That special election will give voters the option of fundamentally restructuring Yakima's government.
The public weighed in, the council members took sides, and now the switch to a "strong mayor" form of government is coming to a special election ballot near you.
"I think it's a giant waste of money to put this on the ballot in February. I have no problem with putting it on a ballot at some future date along with another election", says Nick Hughes who attended Monday morning's study session.
Many people who spoke felt the same way. They're not opposed to voting on a change in government. But they do have a problem with the special election's estimated $65,000 price tag.
However supporters of the February election say it's important to vote on this soon so the search for current city manager Dick Zais' replacement can begin.
If we don't get this behind us how are we going to advertise for a new city manager when the one we have retires?", asked council member Bill Lover.
Lover, along with council members Dave Edler, Dave Ettl, and Rick Ensey voted to places the issue on a February ballot. Council members Kathy Coffey, Maureen Adkison, and Mayor Micah Cawley were opposed.
Yakima currently has a council-manager structure. Here the city manager is the CEO and the mayor is a largely ceremonial position elected from among the city council members by the council members. The change would be to a mayor-council or "strong mayor". In that situation the mayor would be the chief executive of Yakima elected directly by the people. The city manager would be replaced by an administrator who advises the mayor and the city council would remain in place.
"I would say study up on the issue because it's going to be coming your way in February", advises Mayor Micah Cawley.