Community Council combating gang violence in Walla Walla
Posted:
Updated: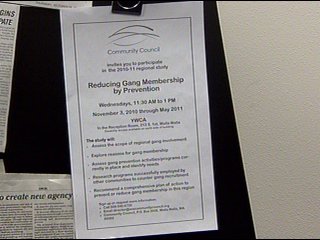 WALLA WALLA, Wash. -- Gang violence is a growing problem in Walla Walla now city leaders are working to reduce the violence. The public went to the Community Council and saying something needs to be done. The Walla Walla Police Department says they have seen an increase in gang activity as compared to last year. They are now looking for a solution.
One victim of gang violence in Walla Walla talked to KNDU. He did not want his identity revealed.
He says, "they hit me here in the head and it started from there...I got stabbed four times in the back, both of my lungs were punctured, and when they ambulance got there they were fully collapsed."
He says he was with his family, dropping off a friend at a party. That's when members of the gang "18th Street" started a fight.
The victim we spoke with is just one of many that have been affected by more than 500 gang members in Walla Walla. According to a study conducted by Walla Walla Police, there are some months in which gang violence more than doubles last year's numbers of that same month. Now the city wants to combat those statistics.
Community Council Director, Julie Reese says, "this year we're looking at reducing gang membership through prevention methods." Methods will be found through a six month study of speakers, presentations, and discussion.
Reese says they are looking in to why people become gang members, what is being done to stop it, and what resources are needed. The goal is to come up with a solution that will be implemented for at least two years, and to help those who have seen the violence.
The first meeting is this Wednesday, November 3rd from 11:30 AM to 1 PM at the YWCA at 213 S. First Street in Walla Walla. Community members are encouraged to join the discussion.