Campaign signs turn up missing
Posted:
Updated: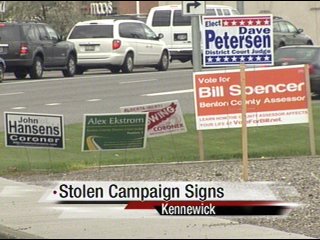 KENNEWICK, Wash. -- You can't miss them, no matter where you drive campaign signs are everywhere. But over the last month or so, some candidates whose names are on those signs are saying they have gone missing.
"I have approximately 90 signs stolen this year and in the past, I've never had more than half a dozen and this is the fourth time that I had opposition when I'm running for re-election," says Barbara Wagner, a republican candidate for Benton County Assessor.
Wagner adds that she does know who is responsible for taking the three dollar campaign signs, but does not accuse her opponent Bill Spencer of taking the signs. Spencer says he has also lost and damaged campaign signs, but adds he also is not sure of who's responsible.
Wagner and Spencer are not the only candidates experiencing stolen or damaged campaign signs. Dave Petersen who's running for Benton County District Court Judge, says he knows that his signs were stolen, he just doesn't know who, "The small signs for example, I can put up a small sign, zip tie it to something at 11 o'clock at night. It's gone by noon the next day. That's not wind. That's somebody."
For the somebody responsible for taking those signs, Deputy Sheriff Joe Lusignan of the Benton County Sheriff's office says The consequences could result in big trouble for those responsible, "Because of the value of the sign, it would constitute what we call theft third, which is a gross misdemeanor which means it's punishable by up to a year in jail or a $500 fine."
Whatever the punishment is for the people taking the signs, Petersen has his own message, "I don't know what message you're trying to send, but for me It's not working. I'm staying in there, working hard."