Sisouvanh sentenced to life in prison
Posted:
Updated: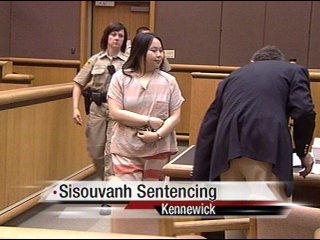 KENNEWICK, Wash.—The woman convicted of the murder of a pregnant woman and cutting out the unborn child in 2008 was sentenced Wednesday to life in prison without parole.
Phien Sisouvanh was charged with first-degree murder and kidnapping last October. The family of the victim, Araceli Camacho Gomez, and her husband, Juan Campos Gomez, were not in court during the sentencing. Andy Miller, Prosecuting Attorney, says the family is still grieving.
"This is a very sad case. We think justice is done. The defendant is going to die in prison. She's essentially received a death sentence. Sad for everybody involved but most of all for Araceli Gomez's family," says Miller.
Defense Attorney, Mike Iaria says, "The jury reached their conclusion of sanity but legal sanity or insanity that doesn't determine whether somebody is extraordinarily mentally ill, and my opinion there's no question that Miss Sisouvanh is mentally ill."
Sisouvanh chose not to address the court before her sentencing. She remained motionless when hearing her sentence. For many, her sentencing is no surprise, but Iaria says he will appeal based on the Eastern State Hospital's psychologist's lack of qualifications.
"He was just going to reiterate the earlier conclusions he had reached which I think were the product of his failure to understand our client," says Iaria.
"I can't remember the last time as a prosecutor that a case wasn't appealed after convictions, so the fact that an appeal has been filed doesn't mean too much to me," says Miller.
Sisouvanh has waived her right to be present at the subsequent hearing on November 10th.