Old KPD building renovated for 3 groups
Posted:
Updated: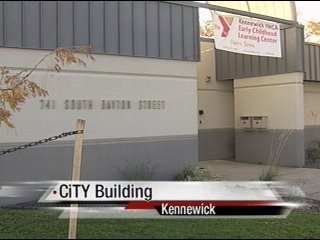 KENNEWICK, Wash.-- Renovations have been completed on the old Kennewick Police Department building. Three different businesses are sharing the space on Dayton St., now called the CiTY building. The name stands for Ci: Columbia Industries, T: Tri-Cities Residential Services, and Y: YMCA Early Childhood Learning Center.
It's been about one year since renovations started and the space is now remodeled and reconfigured. TCRS moved into their space in May, CI a few months ago, and the Y is getting ready to open within the next month.
"CI and TCRS have had a strategic alliance for a number of years. A lot of the clients that we serve during the day are TCRS's clients in the evening," says Rich Foeppel, President of CI.
Tami LaDoux, Executive Director of TCRS, says it just made sense to share space. She explains, "Rich [Foeppel] and I got together and talked about common areas and he brought in Steve [Howland, Executive Director of the YMCA in the Tri-Cities] and we looked at the building and it fit each one of our needs."
The building at 741 S. Dayton Street actually used to house CI back in the 1960s and 1970s before it was ever the police department, so Foeppel says it was ironic to get it back. He says they worked closely with the City of Kennewick to zone the area, get permits, and work out a lease agreement.
Now, the building has three separate areas. The YMCA's Early Childhood Learning Center is where the old police records room used to be. Howland, says, "People won't recognize this. When you look around and see bright colors, you don't think police station." The Y is waiting in a license from the state before they can open. Howland says he hope to get that and have students in the classroom within a month.
TCRS made some offices bigger and made walls between cubicles shorter. CI knocked down multiple walls to create a workshop and put in windows between hallways and rooms.
The CiTY building will have an open house next Tuesday, November 9 from 4pm to 6pm. The public is invited.