Homeowner says she has the first rubber roof in the Tri-Cities
Posted:
Updated: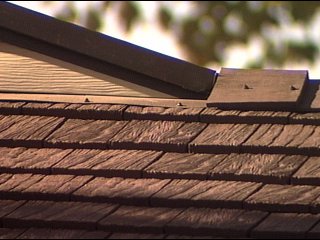 RICHLAND, Wash.—Rubber roofing has been around since 1999, but it didn't hit the Tri-Cities until recently. One homeowner says she is the first in the Tri-Cities to have a roof made of recycled tires.
Her roof is made of a material called Euroshield. It's made from a company in Canada called G.E.M. Incorporation, and a business from Monroe, Washington called State Roofing installed the panels.
Euroshield is made of 75% recycled material. Euroshake, a form of Euroshield, is made of mostly recycled rubber tires.
"Well, the primary ingredient is recycled tire rubber in fact a little more than 50% of the product is tire rubber," says Brian Eberle with G.E.M. Incorporation.
The rest of the material is made from a binding product. It comes in a few different colors, so it won't look much different from your next door neighbor's roof.
Peggy Hamilton, the homeowner, says there are many benefits to a rubber roof. The material is environmentally friendly, it's fire and wind resistance, durable, and reduces your electricity bill because of its' great insulation.
"And it keeps about 700 tires out of the landfill so those are the primary advantages in my mind as a homeowner," says Peggy Hamilton, homeowner.
The material is nailed down and each panel is interlocked. The entire process is pretty expensive, especially when each piece can cost up to $600. Hamilton believes her new roof will save her big bucks in the long run.
"I would say it's worth looking into if you want to be environmentally conscientious. It's definitely one of the few ways you can do that," says Hamilton.