Veterans prepare for job fair Tuesday
Posted:
Updated: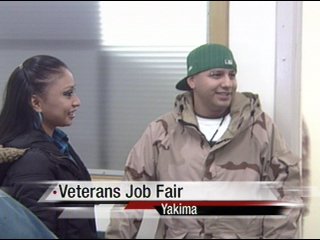 YAKIMA, Wash. – WorkSource and the Washington National Guard are hosting a job fair for veterans on Tuesday as several organizations plan to give back this week to the men and women who have served their country.
"Often times veterans miss out on opportunities and programs because they're not aware," said David Brown, veterans coordinator for Yakima County.
Veterans coming home from tours of duty often have special training and experiences for jobs in civilian life but lack the connections needed to find the right openings.
Alex Inocencio grew up in Wapato and served a four-year tour in the air force. Now he's a student back home looking for a job.
"I'm doing OK right now but I'm always trying to look for something new," said Inocencio.
Alex is one of the more than 18,000 veterans who live in the county. He joined others like him at an open house on Monday to learn more about local programs.
"Sometimes it take a long time for a veteran to hook into those so they are some times when people kind of fall through the cracks," said Brown.
The unemployment rate for veterans is more than 10 percent, above the rate for the general public.
"Just working with the government, there's a lot of red tape and so a lot of times the process does take a little while," said Inocencio.
Veterans are invited to the Yakima Readiness Center on 2501 Airport Lane from 9:00 a.m. to 3:00 p.m. for the job fair, several employers will be represented at the event.
As he prepares for Tuesday, just two day before Veterans Day, Inocencio is focused on his goals, not looking for special treatment.
"I don't expect too much," he said. "I mean we have holidays and we have certain days, we have ceremonies and what not."