Possible Craigslist rental scam in the Tri-Cities
Posted:
Updated: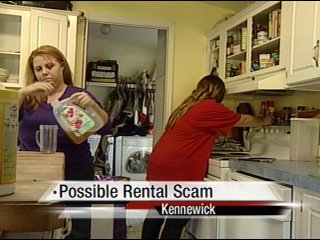 KENNEWICK, Wash. -- The Better Business Bureau wants to remind people that rental scams are a problem on Craigslist and to be aware of deals that seem too good to be true. One Kennewick mom, Kelli Meyer says she almost became a victim looking for an apartment. She came across an ad that seemed like a really good deal. "I found a place and it seemed to have really cheap rent.. I mean you don't find a three bedroom apartment or house even for $650 a month, but this place seemed really affordable. they wanted a $250 dollar fee up front to find me a place," says Meyer.
Meyer called the number that had a general outgoing message like "rental properties," and the agent told her he could only help her after she wired him the money. "I told him that I wasn't just going to wire somebody I didn't know money. After arguing with him on the phone, he was really rude about it. He said I don't think we're a good fit for you. You should probably just find a place on your own.'
Norma Miller from the Better Business Bureau says there are some red flags to watch out for. "We just want to make sure we're making consumers aware that this is happening and to really question whether they want to pay that $250 and take a chance on not getting any service in return. All they gave was a phone number. There's no company information we could use to contact them. Once you wire money it's gone," says Miller.
KNDU contacted the phone number listed on Craigslist and was put on hold. When KNDU called back, the people on the other end hung up.