Microsoft e-learning at WorkSource
Posted:
Updated: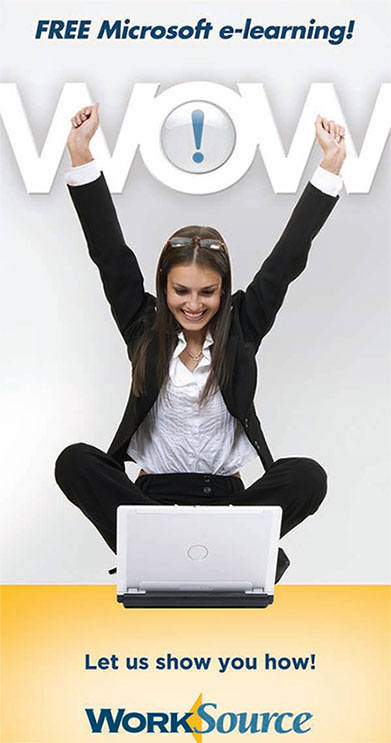 I am excited to announce that the Employment Security Department has contracted with Microsoft to offer more than 1,000 online courses to WorkSource customers so that they can increase their computer skills and be more competitive in today's job market.
WorkSource customers will have unlimited access to Microsoft's comprehensive e-Learning library. The library includes a broad array of classes, including basic computer skills, Microsoft Office software and advanced technical courses, ensuring that there is something for everyone regardless of current computer skill level.
· How this will help local job seekers
One of the biggest advantages of e-Learning is that it is a flexible and convenient way for people to upgrade their skills. People can choose to learn new skills or supplement classroom courses they are already taking.
After successfully completing the coursework, job seekers have the option to earn certifications that will demonstrate to employers that they have achieved a high proficiency in the specified program and that they are ready to apply those new skills.
· How it will help businesses
Increased availability of skill development opportunities will also benefit businesses in Washington State. As more WorkSource customers successfully complete courses and earn certifications, employers can be confident that the workers they recruit through WorkSource have the skills to meet their business needs.
Businesses may also look to WorkSource to help them upgrade the skills of their current workforce, allowing them to maintain valued workers while ensuring they have skills to meet evolving business needs.
· What it means for local workforce partners
If you have customers who would benefit from higher level computer skills and are well suited for e-learning, encourage them to log onto Go2WorkSource.com or visit their local WorkSource office to register.
Your staff can also sign up to increase their skills.