Car thefts down in Yakima County, rate up statewide
Posted:
Updated: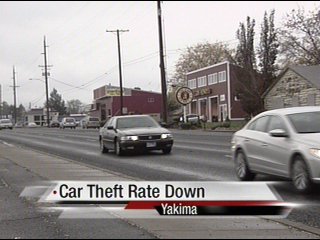 Yakima County saw the largest decline in car thefts from last year compared to any other county in Washington and as the rate went up statewide, according to the Yakima County Sheriff's Office.
"Working together with all agencies in the county now, communication, ideas are shared, and we're targeting auto theft a little more," said Sgt. Randy Briscoe, supervisor for YSO's Violent Crime Task Force.
Briscoe was honored by the Washington Auto Theft Prevention Association for his work to reduce the number of stolen cars by 21 percent.
In 2009, the county ranked third in the nation for most car thefts. The reduction this year means it is now safer to own a car and cheaper to insure it.
"When an area has an incidence of theft that goes down this significantly," said Garry McGree of Farmers Insurance Group. "The customer ultimately gets the benefit of a sharper, better rate."
YSO has recovered 80 stolen cars since July. The total value of cars the agency found this year equals $1 million. Sgt. Briscoe attributes the turnaround to outside funding.
"If we get on top, we might drop out of the top ten, we're not able to get the grant money, then the program might lose a little ground again," he said. "So we have to continue with the funding to stay where we are and continue onward."
As the holidays approach, drivers must also keep up personal vigilance. Briscoe and McGree say keep items out of sight by putting them in your trunk. Also, colder temperatures will bring frosted windshields. Thieves often strike when they see an unattended car outside left to defrost.