Coats for Kids at the Salvation Army
Posted:
Updated: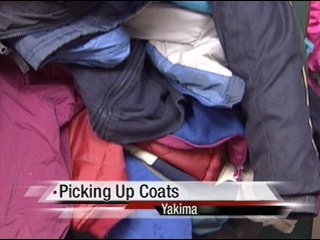 YAKIMA, Wash. -- KNDO has partnered with the Salvation Army for our 25th Annual Coats for Kids drive.
We are well over last year's count, with a record year of more than 1,600 coats donated to the Coats for Kids campaign.
Lisa Sargent, Director for the Salvation Army in Yakima, has continued to work hard in making sure all of the coats collected are distributed to families in need, throughout the Yakima Valley.
Coats for Kids has collection sites throughout Yakima County, Ellensburg and the Tri-Cities area. Several businesses have pitched in by making their place one of the many drop-off locations for coats.
We ran into a Yakima woman, who stopped by the Salvation Army on S. 6th Avenue in Yakima to pick up a coat for her 7 year old granddaughter.
"And I was going to come here, and I knew they had something here for me anyways. So I thought, well.. Stop in and get a coat. And that's what I did, and said 'oh!' There's a coat for your grand baby," said Corastane Stone.
Stone walked out with a fluffy, pink coat this year for her grandchild. She says she's grateful to have the Salvation Army provide coats each winter for the families.
"We keep the rack full, as often as we can. Like I said, we do coat runs a couple of times a week. So, we have not been without coats yet," said Sargent.
The Salvation Army provides coats in various sizes, for kids in elementary school all the way to those in high school. Sargent says each family is allowed one coat per child.
The generous donations from community members in Yakima and the Tri-Cities, have helped dozens of families, like Stone's, stay warm this winter.
If you're in need of a coat, check out the list of all of the locations at: http://www.kndu.com/Global/category.asp?C=86880.
You can pick up a coat for your child at the following Salvation Army distribution centers:
In Yakima:
9 South 6th Ave in Yakima
(509) 453-3139
In the Tri-Cities:
1219 Thayer Dr. in Richland
(509) 946-9010
310 N 4th Ave in Pasco
(509) 547-2138