Hundreds honor local veterans
Posted:
Updated: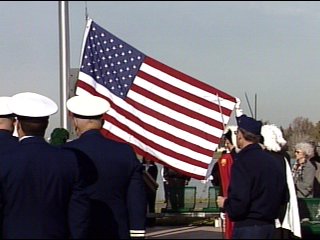 KENNEWICK, Wash. - Hundreds gathered at the Regional Veterans Memorial at Columbia Park Thursday morning to pay their respect for military men and woman.
About 3-hundred people showed up. People of all ages, from young to old gave their support and thanked them for what they've done for our country.
Arthur Cardona is one of dozens of men and women honored. He's served the country for over 11 years and stands proud as a U.S. Army soldier. "It's an honor quite honestly. It helps us preserve the freedoms and liberties we enjoy here as citizens in the United States," said Cardona.
Cardona is a third generation soldier and has served two tours in Iraq and Afghanistan. He's seen things many people have never experienced. It's those experiences and these people that make him proud to do what he loves. "If you look back toward the Vietnam war, there was no love for their soldiers at that point and to see that now, that whole turnaround it really brings tears to your eyes and makes you feel proud for what you do," said Cardona.
And he's not alone. Veterans who've served in wars and those helping out around the world also agree that they wouldn't be able to do it without support from the community.
"There always seems to be a group of folks that try to make it out here whether it's good or bad weather and it's always very rewarding," said Joe Escamillo, U.S. Marine Corps Retiree.
"It makes me feel good to know we have backing for the nation, we are putting aside our lives and providing for everyone else," said Samantha Bunch, U.S Coast Guard.
"We ultimately give our lives for god country and our family and the only thing we ultimately expect is love for what we do," said Cardona.
This was the 9th Annual Regional Veterans Memorial at Columbia Park.