Election sign cleanup nearing an end
Posted:
Updated: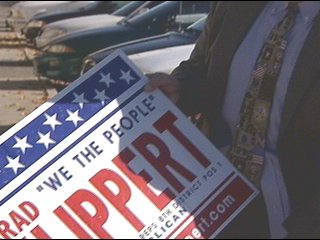 On a busy Kennewick street only one sign is left to stand alone. It sits, stiff in posture after a long election season.
For the rest of them, they've either been plucked and taken away, or in some cases, we found them left to fend for themselves.
"Sign cleanup is totally up to the candidates, people who support the issues, and this year i think people have done a really good job," Candice Andrews said from the City of Richland.
"One of the things we ask those who volunteer to help is, if you're willing to help, would you be so kind as to be willing to help us take them down again," Representative Brad Klippert said.
Representative Klippert says he survived another election, but not all of his $40,000 worth of signs did. But Klippert says the money spent goes a long way.
"My plan is to keep them. You know, keep all your options open for the future and see what the future holds and go from there. My signs are kept for the next 2 years. We'll see what happens then," he said.
"Our city ordinance requires signs to be cleaned up and we're seeing very few stragglers," Andrews said.
In Kennewick, the deadline to remove signs has already passed. For Richland and Pasco the deadline is today. In Yakima you have until November 17th.
-Hilary Whittier. If you have any story ideas please email them to her at Hilary.Whittier@kndu.com