Fire damages two Kennewick apartments
Posted:
Updated: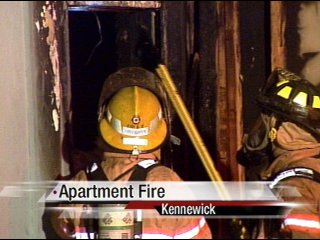 KENNEWICK, Wash. -- A couple of families are having to find somewhere to stay for a few days after a fire broke out in a Kennewick apartment Friday evening.
Around 7:00 p.m. units from Kennewick, Benton County and Richland responded to the Village at Volland Apartments in the 4300 block of West Hood.
The fire started in a storage unit and then spread to the apartment. A second apartment was also damaged by the fire. Firefighters are still investigating, but we talked to a couple of boys who were in the apartment where the fire started.
"We were playing games on the X Box 360 and then we heard a loud pop and out of nowhere the power just came out. We ran downstairs, ran out the door, looked in the back of the apartment and it was smoking," said Ronnie James and Zack Cowin. Cowin's mother said she went into the apartment to help everyone get out, but it was realized that a baby had been left in the apartment. The baby was then safely retrieved. Cowin's mother said the families in the two damaged apartments were Iraqi families that had recently moved to the U.S. from Lebanon.
Ronnie and Zack said they thought the fire started in an electrical panel, but investigators said they couldn't verify that, however a Benton P.U.D. crew was called out. Everyone in the apartments made it out safely with no injuries.