CWU Wins 21-16, Awaits Postseason Fate Sunday
Posted:
Updated: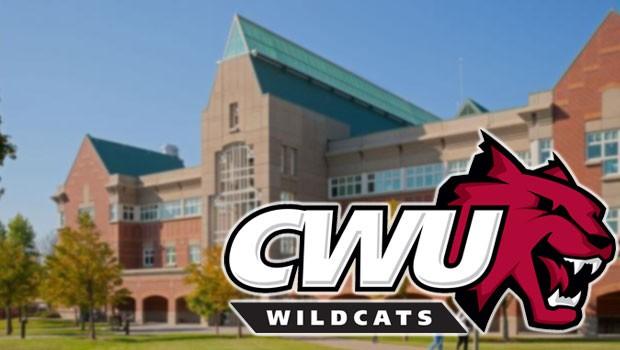 ELLENSBURG, Wash. (Nov. 13) -- Central Washington University junior Justin Helwege (Sammamish, Wash./Eastlake HS) had a career-high seven receptions for 132 yards and two touchdowns, and the Wildcats survived Western Oregon University, 21-16, to claim the outright Great Northwest Athletic Conference football championship on Saturday at Tomlinson Stadium.

The win capped the Wildcats' regular season at 8-3 overall and 7-1 in the GNAC. They will now await their postseason fate, which will be announced by the NCAA Division II committee on Sunday afternoon. Central came into the week ranked eighth in the Super Regional Four, and the top six teams in the region will qualify for the postseason. Western Oregon finished 7-4 overall and 5-3 in the GNAC.

Helwege's 132 yards were a season-high for CWU, and were four shy of his career-high of 136 yards at Azusa Pacific on Nov. 1, 2008.

Central got off to a boisterous start, scoring on its first two possessions. The Wildcat defense got the ball after junior Andrew Oney (Spanaway, Wash./Spanaway Lake HS) recovered a fumble on the WOU 22 yard line, and although the offense was unable to put the ball in the end zone, sophomore Sean Davis (Federal Way, Wash./Todd Beamer HS) gave CWU the early lead with a 30-yard field goal.

After a three-and-out, Central Washington regained possession and marched 63 yards on 12 plays. Helwege capped the possession with a 13-yard reception from sophomore Ryan Robertson (Sammamish, Wash./Eastlake HS), but Davis' ensuing extra-point attempt was deflected to keep the score at 9-0.

Each team kicked a field goal in the second quarter, and the Wildcats took a 12-3 lead into the halftime intermission.

Junior Dominique Gaisie (West Covina, Calif./Bishop Amat HS) opened the second half with a season-long 44-yard kickoff return to the WOU 45, and the Wildcat offense then took full advantage of the field position. Three plays later, Robertson and Helwege hooked up on a 21-yard scoring strike that pushed the lead to 19-3.

Western Oregon cut into its deficit early in the fourth quarter, as Cory Bean scored on a fourth-down quarterback keeper from the CWU 1-yard line, but the two-point conversion attempt by Bean was intercepted in the end zone by Wildcat senior Paul Wright (Martinez, Calif./De La Salle HS), who returned the conversion the length of the field for a two-point defensive PAT and a 21-9 lead.

The Wolves added a touchdown with 4:36 remaining as Bean fired a 60-yard scoring pass to Demario Ballard, and the ensuing extra point made it a five-point game.

Central appeared to have the game in hand after gaining two first downs and then a third first down after senior Bryson Kelly (Mukilteo, Wash./Kamiak HS) gained 26 yards on a third-and-nine play, but with the Wildcats lined up in "victory" formation, a mishandled snap resulted in a WOU takeaway at the Wolves' 15 with 34 seconds left. The Wolves completed consecutive passes totaling 20 yards, but CWU junior Taylor Tanasse (Yakima, Wash./West Valley HS) sacked Bean for a 10-yard loss on second and one, and WOU was unable to advance into the end zone on its final play of the game.

The Wildcats dominated in every statistical category, including time of possession (40:55 to 19:05) and takeaways (5 to 2). They also totaled 394 yards of offense including 299 through the air by Robertson, who had the second-best passing game of his career. Each team struggled rushing the football, as Central netted just 95 yards on 43 carries while the CWU defense held Western Oregon to five net rushing yards on 22 carries. The Wolves accumulated 236 through the air.

Individually, Kelly was held to 73 yards on a career-high 35 carries to account for most of Central's ground attack. Helwege and senior Kollin Hancock (Columbus, Ohio/Gahanna Lincoln HS) had seven receptions apiece to lead the receiving efforts for the Wildcats, while two Wolves players -- Ballard (107 yards) and Trevor Gates (104) finished above the century mark in receiving yards.

On defense, CWU seniors Adam Bighill (Montesano, Wash.) and Loa Madon (Vista, Calif.) led the way with nine and eight tackles, respectively, in their final collegiate regular-season game. Each player also had a takeaway with a fumble recovery and interception, respectively, while Gaisie had a fumble recovery and an interception in addition to his 110 total return yards on special teams. Sophomore John Koopman (Enumclaw, Wash.) finished with four tackles including two first-quarter sacks.

Western Oregon had three players record double figures in tackles, led by the game-high 17 stops from safety Caleb Singleton. Bryce Peila and Scotland Foss added 10 tackles apiece, and the Wolves totaled 15 tackles for losses in the game.

Central Washington finished with a 5-1 home record, and the Wildcats hope to have the opportunity to extend their season into the NCAA playoffs. The 24-team Division II tournament field is expected to be announced on Sunday.