Hockey Manitoba selects Ams for Elite Tourney
Posted:
Updated: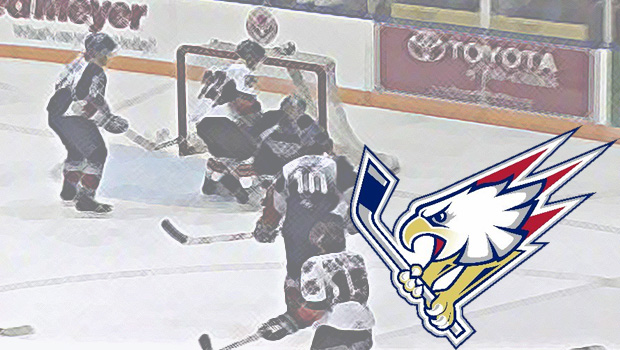 KENNEWICK, WA – Tri-City Americans' Governor/General Manager Bob Tory announced today that 16-year-olds Chris Driedger and Justin Hamonic have been named to Team West for the upcoming 2011 World Under-17 Hockey Challenge, set for December 28, 2010 through January 4, 2011 in Winnipeg, Manitoba. Additionally, Americans' prospect Taeron Lewis was named to the U-16 Team Manitoba roster that will compete at the Canada Winter Games from February 11-27, 2011 in Halifax, Nova Scotia.
With the selections, Tri-City has now seen players and/or prospects participate in either the World U-17 Hockey Challenge or the Canada Winter Games (2007) for six straight seasons. The list of former Tri-City participants includes Joel Broda (06, WST), Eric Mestery (07, MB), Kruise Reddick (07, SK), Tyler Schmidt (07, MB), Jason Gardiner (08, WST), Adam Hughesman (08, WST), Mason Wilgosh (08, WST), Justin Feser (09, PAC), Brooks Macek (09, WST) and Zachary Yuen (10, PAC).
"We are pleased and honored that our players will represent their region in these prestigious tournaments," expressed Tory. "This experience, playing against the top players in their age group in the world, will help them develop that much quicker. Congratulations are certainly in order for Chris, Justin and Taeron."
Driedger, a 6'2 175 lb. netminder from Winnipeg, is in the midst of his rookie season with the Americans, appearing in four games and compiling a 1-1 record along with a 3.73 goals against average and a 0.876 save percentage. Selected in the 4th round (80th overall) by Tri-City in the 2009 Bantam Draft, Driedger spent the 2009-10 season with the Winnipeg Monarchs (WAAAHL), totaling a 13-6-0 record with a 2.14 goals against average and five shutouts.
Hamonic, a 5th round (102nd overall) pick by Tri-City in the 2009 Bantam Draft, had a strong camp with the Americans before being reassigned to the Winnipeg Wild Midget AAA. In 17 games for the Wild this season, the 6'2 190 lb. defenseman from Winnipeg has recorded five points, eight penalty minutes and a plus-10 rating.
Lewis, Tri-City's 7th round (151st overall) pick in the 2010 Bantam Draft, is currently playing for the Winnipeg Monarchs Midget AAA, appearing in eight games.
The World U-17 Hockey Challenge Tournament is the first step in Hockey Canada's Program of Excellence that continues at the national level with the Under 18 Team and National Junior Team. Meanwhile, the Canada Winter Games are held every four years and will feature the country's top 1995-born players.