Yakima man loses more than 50 lbs. with sleep therapy
Posted:
Updated: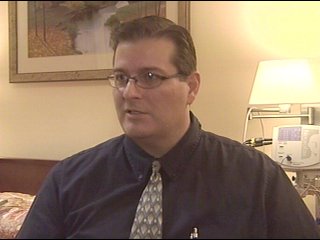 YAKIMA, Wash. – Michael Stamm has lost more than 50 pounds in recent weeks thanks to treatment for a sleep disorder after years of trying to lose weight.
"I was getting frustrated enough where I was saying, well you're just, big and that's how it's going to be," he said.
Stamm tried exercise routines, diet pills but never saw significant results. He's worked in the field of sleep therapy for a decade but didn't think to check himself into Memorial's Sleep Center until recently.
"I knew I was starting to feel the effects of my weight and worried that, you know, I wanna be there for my kids, when they have kids and be there into my 70s, 80s, 90s," said Stamm.
He had trouble falling asleep and staying asleep. Outside of work he didn't have the energy to do anything.
Dr. Manoochehr Abadian works for the Sleep Center and says Stamm's symptoms are common, especially among those with weight problems.
"Many of my patients," said Abadian. "In the first encounter when I see them, all they're telling me, I go to work, I come back, I'm exhausted, I lie on the bed and I'm gone."
In order to properly identify a disorder, patients spend the night at the lab. They have monitors on their brain, blood, breathing patterns, oxygen levels, and body movements. They spend the night in a room similar to what you might find at a hotel.
Sleep physicians like Dr. Abadian look at charts that offer 30-second snapshots of activity as well as a summary of all hours of sleep.
"This patient has frequent arousal and awakening," he said based on steep changes in the monitors on their chart. "This patient was not able to have a nice, smooth sleep through the night."
Sleep disorders can affect your weight in two ways, body movement and food intake. Poor sleep will make you tired and less likely to exercise plus affect your hunger-related hormones and increasing your appetite.
Possible remedies include CPAP, prescribed for patients like Stamm, a mask that helps you breath while sleeping.
"I started feeling, you know, really good, a lot of energy," said Stamm about the impact of the treatment. "A lot more sure of myself and decided you know it's time to stop being a fat guy."
He portioned his meals but says the majority of his weight loss came after adjusting his sleep patterns. Anyone concerned about a possible disorder should contact their family physician or call a sleep lab directly. Memorial's Sleep Center can be reached at (509) 574-3833.
"I feel like I can do anything, of course I still have a lot of weight left to lose, come back in six months and talk to me. I know I can do it."