More students rely on free and reduced lunch programs
Posted:
Updated: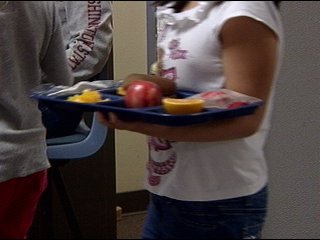 The economy in the Tri-Cities may be better than other areas in the country, but rough times still exist and it shows in the number of parents and children relying on free or reduced school lunch. Besides recess, lunch time is probably the favorite time of day for students. However, school districts in the Tri-Cities are seeing an increase in students qualifying for free and reduced lunch programs.
Sam Shick, with the Kennewick School District says, "we've had obviously a down turn in the economy which means that more people that aren't working and qualify for benefits."
A report from all three districts show the percentage of students relying on reduced and free lunch shows:
Richland = 32% students
Kennewick = 51% students
Pasco = 70% students
Richland schools have the lowest number, but it is an increase from 25% last year. Still, the district expects even more.
Denise Christensen, with the Richland School District says, "I think with the increased enrollment in the Richland School District, yes, we will see an increase. I don't think it's going to be leaps and bounds, but I think we'll see small incremental increases."
Pasco schools report the highest number of students using the program, and point out there are checks put in place to make sure the food goes to where it belongs.
Randy Numaker is with the Pasco School District. He says, "the state will send down periodic auditors and they help us go through the applications and they select them and they at random will pick them out and verify the information that's been provided to make sure the people that are applying are qualified."
Several parents of children who rely on the program said the reduced cost has helped their finances.
All three school districts agree; if the economy does not improve, even more children may need help being fed.