Buzz on alcoholic energy drinks fizzle
Posted:
Updated: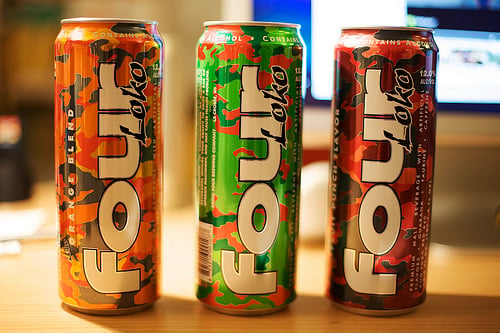 YAKIMA, Wash. -- Distributors are working around the clock to pull off all their alcoholic energy drinks off of store shelves by Thursday's deadline.
Washington State Governor Christine Gregoire announced last week a statewide ban on energy drinks that contained alcohol, after nine Central Washington University students who authorities say were drinking Four Loko were hospitalized last month.
On Wednesday, KNDO spoke to several convenience store owners in Yakima, most agreed these type of drinks were not as popular as similar alcoholic drinks sold without the caffeine in them.
Flightline convenience store and gas station was busy on the eve of the statewide ban, but it wasn't to stock up on the alcoholic energy drinks. The noon hour was just their standard, daily lunch rush.
"We already took off the product from our shelves. But there wasn't a big rush for people to buy them in stocks. They were just buying them in cans," said Esmeralda Garibay, cashier at Flightline.
Store owners also said they weren't too worried about not being able to sell these drinks, since they carry so many other brands of alcoholic drinks.
KNDO also talked to a convenience store owner out in Cowiche who told us he didn't see a "rush" either with people trying to buy the soon-to-be banned drinks. The owner said his store never sold Four Loko, but did sell Joose. He noted that most of his customers preferred other types of drinks over the alcoholic energy kind.
We caught up with a beer distributor at one of the Yakima stores who told KNDO, he had about 15 stores to hit up before the end of the night. In order to beat the deadline, the company made stops to about 15 stores per day since the statewide ban was announced.
Meanwhile, the manufacturer of Four Loko has said it will remove the caffeine from its products. All this taking place, as the Food and Drug Administration is poised to ban alcoholic energy drinks.