Making your hybrid more efficient
Posted:
Updated: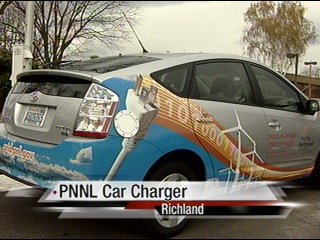 RICHALND, Wash. -- Scientists at PNNL have enhanced a technology that could save you gas money and reduce your carbon footprint. Electric cars have been talked about for years but they are not near as popular as hybrids like a Toyota Prius, known as the most fuel efficient car sold in the united states. Now local engineers have come up with new technology to make it even more efficient. Scientists at PNNL have it enhanced it with a smart charger controller.
Engineer, Rick Pratt says, "what we are trying to do is enable the capability of customers to be able to use electric power when the commercial generating capacity is available."
But in order for the smart charger controller to work it must be placed in a plug-in car. "We had a commercial retrofit kit installed into that expanded it's range to 30-40 miles on battery power," says Pratt.
It's easy to charge the car, you just plug it into a charging station. From there, the controller recharges the car when power demand is lowest, making it a grid friendly charge.
Pratt says this new technology would not only reduce dependency on foreign oil but also allow renewable energy sources such as windmills to charge the cars. "We also want to use the technology when the grid is more heavily loaded and it reduces the charging rate," explains Pratt.
Engineers say you can start expecting more electric cars on the streets starting early next year. In fact, Chevrolet, Toyota, and Nissan all have plans to release models in hopes of saving you money and using more renewable energy.