Yakima City Council may consider changing current election process
Posted:
Updated: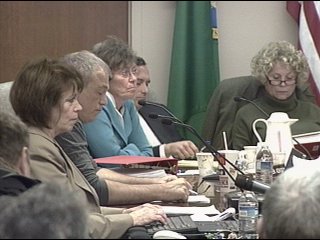 YAKIMA, Wash. – Supporters of a change to the city's districting process for elected officials pushed their cause again Wednesday with skeptical reaction from city leaders after presenting the idea before the council the night before.
"This is probably the wave of the future," said Mary Baechler, an organizer with Central Washington Progress. "The Voting Rights Act calls for voting to be fair and representative of the communities."
The current city council has seven positions, four assigned to districts and the other three as at-large seats. But those four council members only need to win the vote of supporters in their district for the primary. The entire city selects the winner of those district races in the general election.
Mayor Micah Cawley believes this method keeps leaders from fighting over funding to bring back to their constituents.
"We represent the entire city, we focus on all the big issues. Public safety and crime along with economic development and there's not a lot of territorial feelings around city hall."
The city's current system of district elections has been in place since 1976 and a potential change would require amending the city's charter.
New census data would help the city to divide Yakima into seven equal districts, according to supporters.
City leaders have already started working on an initiative that would ask voters if they want to switch from a "council-manager" form of government to a "mayor-council" style that would lead to the public electing the city's top politician.
Baechler and supporters from local unions and businesses hope the council will add this issue to the ballot in February.
"As long as we've brought forth the strong mayor question," she said. "This is a good time to say do you want more direct representation on the city council and also do you want to know who your city council member is."
Part of the reasoning is to bring more economic, ethnic, and political diversity to the city council.
Cawley is skeptical about whether the council will consider this issue in time for the special election.
"Anybody can say yeah this is representative of the community or not," he said. "But of course it is because all these folks ran for office and voters elected them."
Supporters plan to collect signatures for a petition if needed and are prepared to push for the issue on the regular August primary or November election.