Yakima retailers looking for more help during the holidays
Posted:
Updated: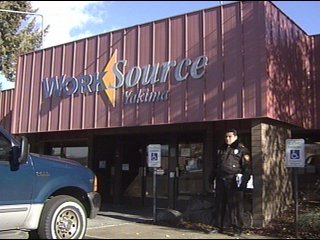 YAKIMA, Wash. - Former forklift operator Darryl Robinson has been unemployed for the past two weeks and was one of many people visiting WorkSource Yakima Thursday to apply for a holiday retail opening.
"I need a job, have to support myself so anything helps," he said.
Robinson spent the harvest season working for a produce company. He's prepared to work outside his skill set to keep busy during the holidays.
Jean Brown is a Business Services Manager for WorkSource Yakima. The employment service group says there are 42 employers looking for job applicants, mostly for the holiday season.
"Their outlook is good," she said. "People are shopping and excited about the holidays so they're looking forward to having an increase in staffing."
Almost half of those retailers are at the Yakima Valley Mall. Those stores are looking for people who can start working within the next 10 days.
Employment in this field has been slowly rising in Yakima County all year and is projected to peak in November.
Robinson knows there are a lot of applicants for those holiday jobs but he thinks he can stand out.
"I'm physically fit, I'm clean, I'm smart," he said. "I'm capable of doing any different number of jobs, I just need a chance."
WorkSource says anyone hoping to get one of those openings needs to act fast and visit their office on 306 Division Street. They should have a current resume and dress ready for an interview. Call (509)574-0129 for more information.
"Don't give up hope, you'll find a job," Robinson says to fellow applicants. "It's always been my motto the only person that doesn't have a job is somebody who isn't really looking."